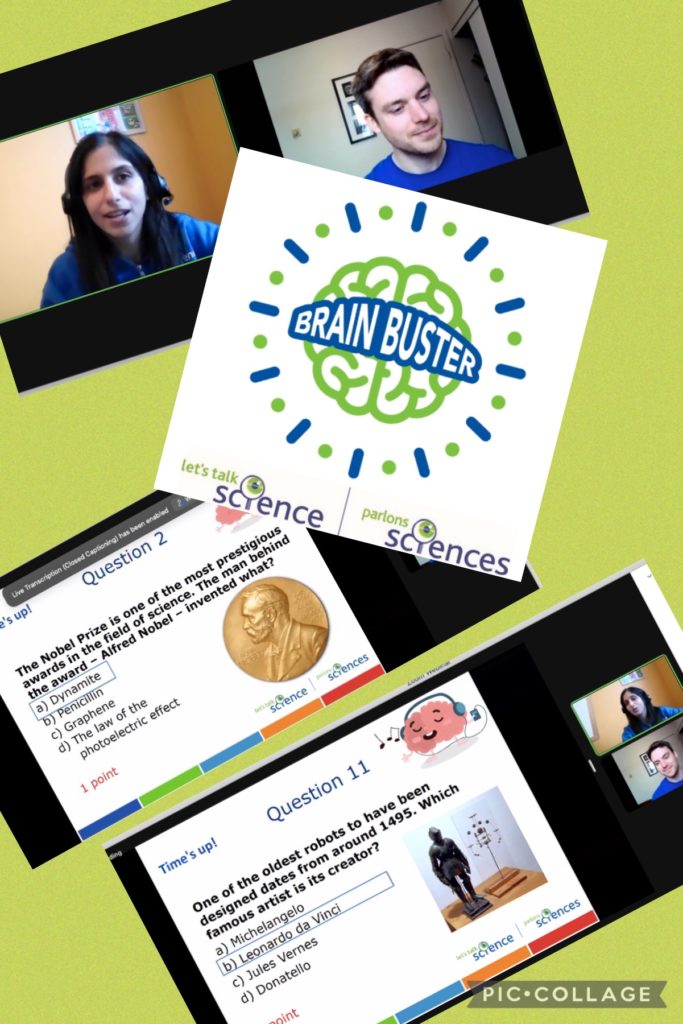 Over 650 students from grades 4-6 participated in a special Brain Buster Quiz Show organized by Let's Talk Science solely for Sudbury Catholic students.
Students tested their knowledge about science, technology, engineering, and math (STEM) in a fun and engaging activity.
During the 45 minute session, multi choice questions in a variety of categories such as careers, inventions, public, multidisciplinary, sprint and general were selected. Students learned new vocabulary such as crepuscular, felidae, canidae, mustelidae and so much more all while having fun!
Students were also given the opportunity to ask questions to special guests Gaëlle and Nick about their experiences studying in STEM. Both university graduates, Gaëlle studied engineering while Nick studied physics. Both educators have a passion for teaching and sharing their knowledge about STEM to students across the country.
We would like to thank the team at Let's Talk Science for organizing this event for our students. 
Please check out other upcoming Let's Talk Science's Virtual Events:
Let's Talk Science STEM Club (Grades 4-6)
Join us with your class for fun and interactive STEM activities starting on January 27th! Each week features a different hands-on activity using minimal, easy-to-find materials. Students will also have the chance to learn from and ask questions to inspiring STEM role models. STEM Club is ideal for busy educators and caregivers, no matter what their learning environment looks like! Register for STEM Club here.
Let's Talk Science Challenge (Grades 6-8)
The Let's Talk Science Challenge is a competition that takes place each year for students in Grade 6-8 across Canada. It includes a question and answer competition and an engineering challenge.
Preparation for the competition is important. Students will work in teams or individually to learn STEM concepts provided in a handbook prior to the competition. There will also be practice quizzes and design and build challenges available weekly throughout the Play & Learn weekly activities portion.