March 01, 2018
We are Called to Advance Leadership and Learning for All
Director's Corner
It's Holy Week, that sacred time from Palm Sunday to Easter Sunday when we commemorate and remember the last week of Jesus' life on this earth. We remember His actions, reflect on His messages, and recommit to living as His disciples in the world today. As we celebrate Easter, we also welcome Spring.  Soon the snow will melt and our school yards will be filled with vibrant colours and the sun will warm our faces. Spring brings with it a renewed energy and enthusiasm.  For the fifty days of the Easter season, let us radiate this joy as we embrace our calling as His disciples, for we are His hands and His feet, sharing Jesus' eternal love with the world.
This month I want to focus on our third Strategic Pathway:  We are Called to advance Leadership and Learning for All with a particular focus on Mathematics.  As many of you are aware, throughout the year, our schools have turned to a variety of methods that focus on improving our math and numeracy skills and increase student engagement and overall confidence! Our staff is very dedicated to continuously reviewing and improving their practice.  Their energy and commitment to student learning creates positive environments that support our students and helps them to be successful.  I extend my thanks to all of them for all that they do each and every day. 
Looking into our elementary schools
Our elementary schools have a Math Leadership Network which includes a Principal or Vice Principal, SERT (Special Education Resource Teacher), the school's facilitator and all Grade 3 and Grade 6 teachers. Participating teachers and educators are given access to online professional development tools and resources to support math learning and teaching within the classroom. Throughout the year, educators have also participated in a variety of learning opportunities, job-embedded learning and school-based learning.
Collecting and unpacking student work helps us notice the progress our students are making as they learn strategies, models and big ideas. Here are how our elementary schools have been tackling the math curriculum in unique ways!
Pius XII receives achievement award from EQAO!
We were excited and very proud to hear about the recognition that Pius XII Catholic Elementary School received last month from EQAO.  The school is a recipient of this year's Dr. Bette M. Stephenson Recognition of Achievement Award. Each year, EQAO recognizes schools in Ontario that have demonstrated significant improvement in student achievement. This year, EQAO has chosen to highlight schools that have worked to strengthen their strategies surrounding achievement for students with special needs.
As a recipient of this award, Pius XII has shown incredible dedication to improving the levels of success for all of their students over the last several years. Through ongoing monitoring and data collection, collaboration, targeted accommodations, and building a safe and caring school environment, the staff at Pius XII has seen a significant increase in both measurable results and overall student achievement. 
"This recognition award means a great deal to all of our staff. It gives us an opportunity to celebrate the success of our students, which is also our own success. We know that all students can learn and achieve high levels given the right supports over time. This achievement award motivates us to continue setting targets and goals that help every student reach their full potential", said Laurie Zahra, Principal at Pius XII School.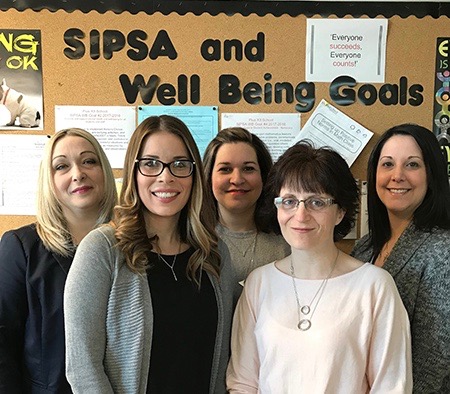 St. Charles Elementary school embraces a complete growth mindset!
Using the online course "Mathematical Mindsets' by Stanford University Professor Jo Boaler as their inspiration, the staff at St. Charles school in Chelmsford have devoted themselves to improving their school community's growth mindset and applying it to mathematics!
The course helps participants build a positive relationship with math and allows them to learn the strategies they need to find solutions and successfully help students develop a growth mindset. While the staff has worked through the course, the students have also completed growth mindset exercises. Working together in the school's gymnasium, students watched videos and discussed their understanding of both growth mindsets and mathematics. Together, the staff and students develop solutions to solve Math problems. When the Olympics ran in February, the classes embraced this as well and used edits of the film 'Cool Runnings' to demonstrate the process of growth mindset. Since studying Growth Mindset as a school community, students have really demonstrated that they aren't afraid to make mistakes, that they will persevere with a problem and that they are anxious to 'grow their brain' by trying something new.  The school is looking forward to seeing how the students continue to improve their math skills throughout the Spring and beyond!  A growth mindset really sets the foundation for successful learning in all areas of the curriculum.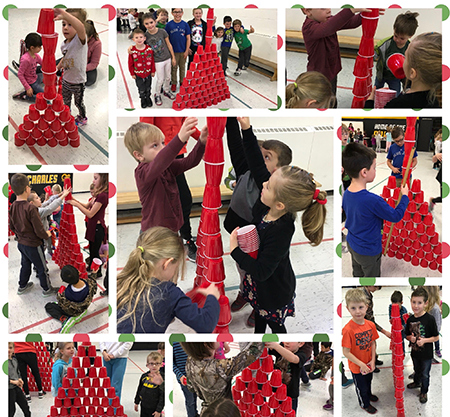 Holy Cross creates concrete maths solutions for their Kindergarten students!
To help their youngest learners better grasp the math curriculum, Kindergarten teachers Michelle and Jessica have incorporated concrete items into their lessons. Students work in small groups and move along the classroom to complete problems. Using items such as feathers, rocks and other familiar items, students are able to visually see the math problem and understand what needs to be done to reach the solution! This creative method has resulted in an exciting classroom filled with students eager to learn and solve math problems.   
The teachers were inspired by the White Buffalo Circles teachings that occur in our elementary schools. They use the colours and shapes from the Indigenous culture and infuse it into their math lessons.
"Our staff and students at Holy Cross are very inspired and supportive of the Indigenous education programming. We try to incorporate it as much as possible into our own lessons. The symbols have become very familiar to the students, and make it easy for them to work with when solving numeracy problems." M. Thiessen, teacher at Holy Cross School.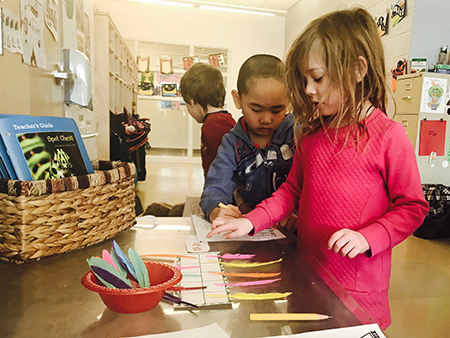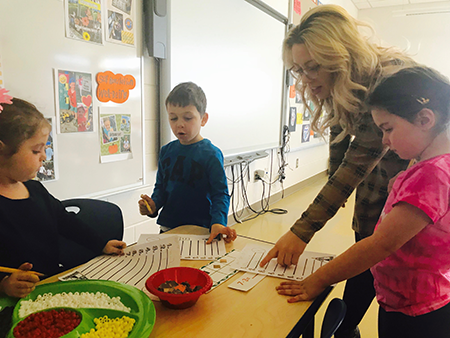 Students and Educators at Immaculate Have Embraced the new Mathology Program
The new comprehensive and interactive Mathology program by Pearson enables educators to plan and implement meaningful, differentiated math learning experiences for all grade 1 students.   Through print and digital media, educators are delivering the lessons and activities by engaging students in various types of group work allowing for numerous accommodations and extensions to occur.  Mrs. Hayden, Mme Martin as well as other educators have noticed increased student engagement, self-confidence and perseverance.  The use of Mathology little books and classroom activity kits encourages Math conversations, the use of manipulatives and multi-step problem solving.  Other educators in the building are looking forward to the release of future Mathology kits.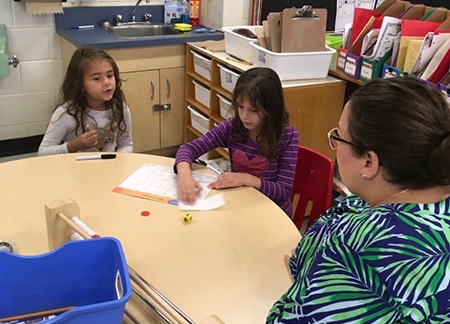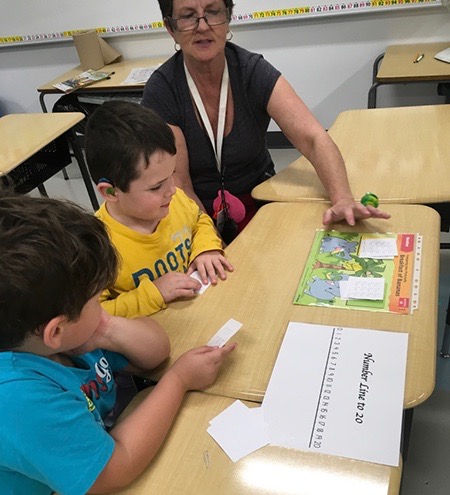 Looking into our Secondary Schools
Math teams at the Secondary School level have been working on collaborative projects to improve student learning and understanding. From vertical surface teaching to using assessment and observational tools, our students are benefitting from classroom settings that are innovative, hands-on and built to meet their needs!
Vertical classrooms transform learning environment at St. Charles College
To help improve participation and concentration in math, St. Charles College has incorporated the use of vertical classrooms. In a vertical classroom set up, students stand at white boards in groups of three and work through unfamiliar problems to come up with solutions. The students work together to brainstorm ideas and apply their knowledge of mathematics to the problem.
This method increases communication and critical thinking skills as all students within the classroom work and participate in a positive group setting!
"The students really love this concept. It allows them to work and ask questions without having to be embarrassed. I have seen the confidence of all students soar since the transformation of this classroom. It seems like every day I get requests to visit the vertical classroom!" B. Belanger teacher at SCC. We are very excited that by the Fall of 2018 all of our Grade 9 and 10 Mathematics classrooms will be transformed to promote collaboration and effective pedagogical practice.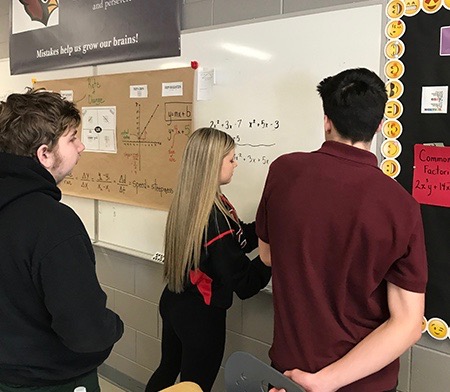 Bishop Alexander Carter teachers work together to improve student results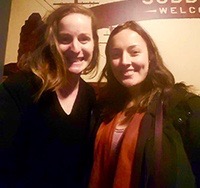 With an overall goal of improving results, Bishop Alexander Carter Secondary School created a co-teaching environment in their Grade 9 Applied Math classes. A co-teaching model can take many forms, so Bishop chose a method that would work best in their school community.
One teacher teaches and coordinates the main lesson at the front of the class with the second teacher circling the students to ensure they understand the material. The second teacher will also quietly answer questions throughout the lesson without distracting the other students. This teaching technique has allowed the teachers to truly see if students are grasping the material and to see where they might need extra help. For students, it allows them to ask questions and get the help they need in a one-on-one environment.
The teachers are eager to see how this technique will improve results and attitude toward math throughout the remainder of the year!
Get to know us – Krista Sarmatiuk
Krista Sarmatiuk is our Kindergarten to Grade 12 Math Facilitator. She leads our math teams and encourages our schools to continue to push the envelope and try new teaching methods and concepts. Krista is constantly working with our schools to see what methods are working and where the gaps in the classrooms are.
Krista believes that with the rise of technology, we must change the way we teach math to suit needs. Using things like Skype, iPads and programs such as online courses and screen share options allows both our staff and students to learn in a different way.
"People find math scary, so we try to help make it less scary. What I really like about working with the Board is that we are a community. We create positive relationships that focus on learning and growing. That's very important to have when we're talking about math and numeracy development," K.Sarmatiuk.