February marks a very important time in our liturgical calendar. On Ash Wednesday, our CEC staff and schools communities gathered together in prayer.  Ash Wednesday is one of the most important holy days in the liturgical calendar as it opens Lent, a season of fasting and prayer.
February also marks a new semester in our schools. As we move forward in the 2017-2018 school year, we must continue to strive to keep our body, mind and spirit nurtured. We emphasize the value of respect for ourselves and the community that surrounds us.  Our staff and students work together to provide support, resources and activities that help keep our spirits high and our hearts full throughout the year.
Shrove Tuesday and Ash Wednesday
We celebrated both Shrove Tuesday and Ash Wednesday this month in honour of the Lenten Season. Our staff and students across the Board worked hard to put together pancake breakfasts. I am reminded of the giving spirit and generosity that is present throughout our Catholic learning community!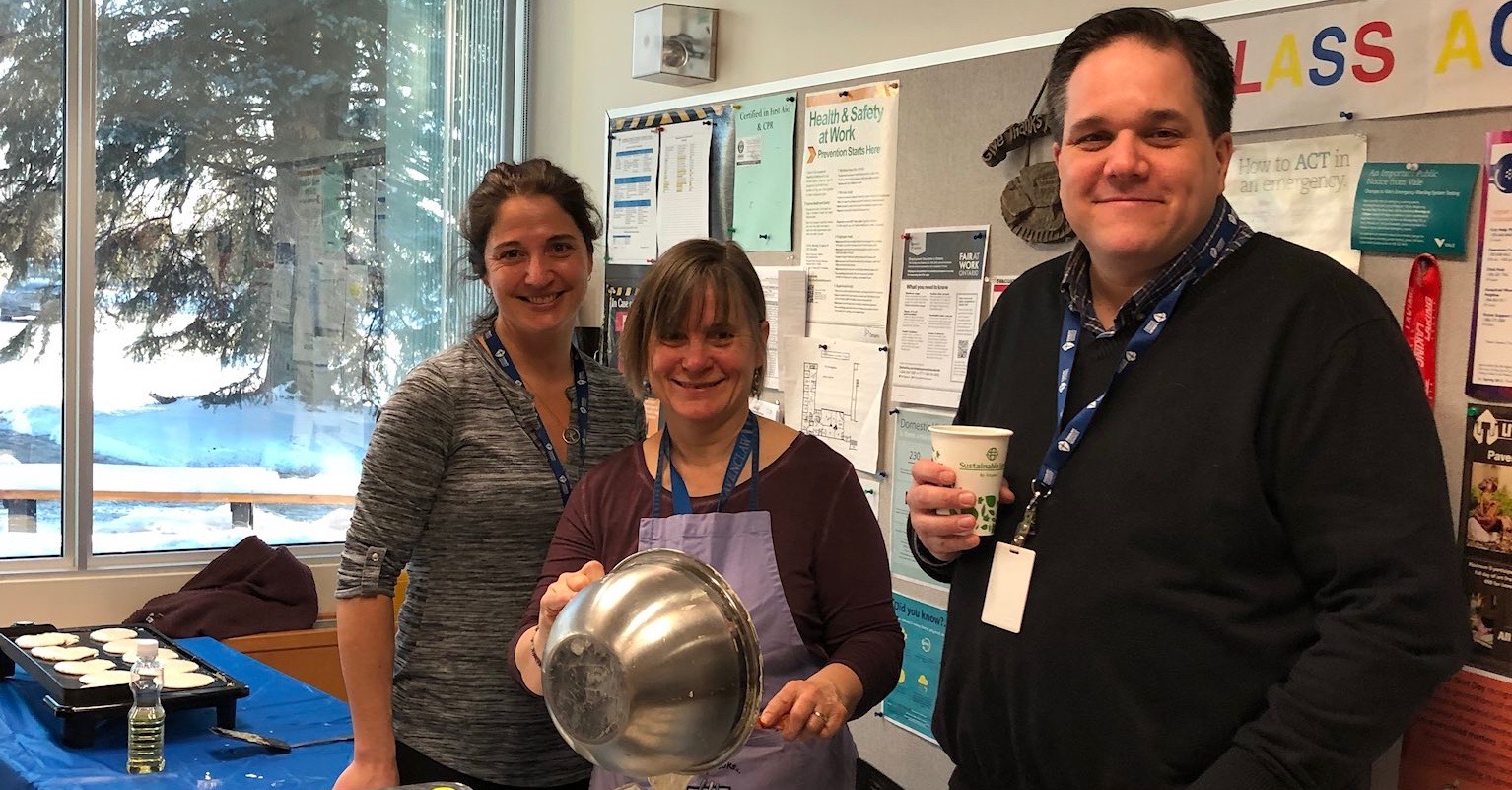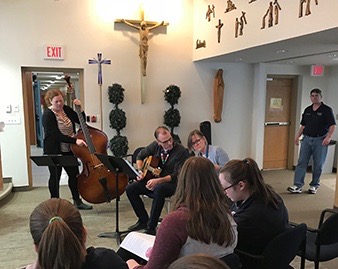 Custodial Staff engages in wellness day
Our hardworking and dedicated custodial staff were able to participate in a day-long Professional Activity day focused on health and wellness! The breakout sessions included a wellness presentation by nursing student Julie, and team building exercises led by Operations Assistants Nancy Bellmore-Perron and John Jamieson! We thank our custodial and maintenance staff for keeping our schools and spaces clean and safe. The day was met with lots of laughs and participation from this fun-loving group. Way to encourage wellness in a big way team!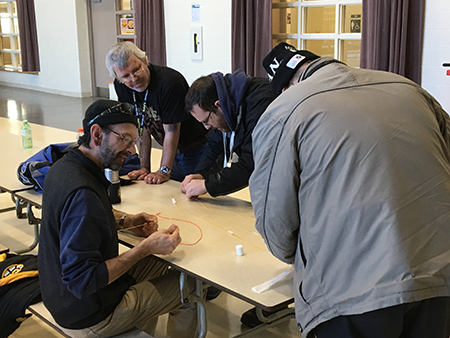 How CEC incorporates the 'FISH philosophy' into the workplace
At Sudbury Catholic Schools, we believe that we make the most impact when we build each other up! You may see a unique display of colourful fish at the reception area of the Catholic Education Centre. Through the "Fish Philosophy", our wonderful staff expresses their gratitude and enthusiasm for other members of our Catholic community. Be it the way they were greeted at a meeting, or to thank one of our colleagues for their hard work on a project, there is always something to be grateful for! If you catch someone having fun, being present, making someone's day, choosing a positive attitude ask for a fish the next time you're visiting the CEC and continue to spread the good vibes!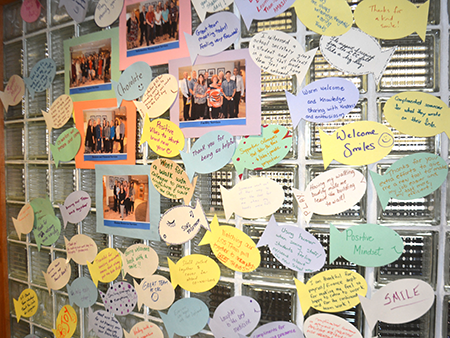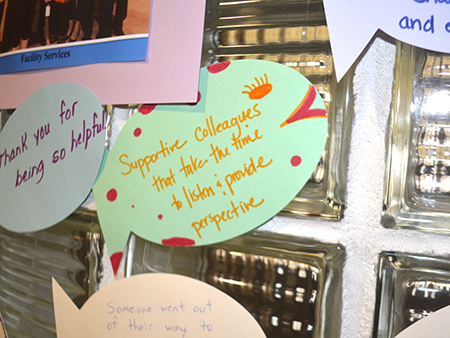 Holy Trinity creates total growth mindset experience for students
In January of 2018, the Kindergarten classrooms at Holy Trinity School introduced the "growth mindset" concept. This model will help their young learners to better understand their own capabilities and encourage them to put forward their best effort when dealing with new classroom challenges.
The teachers have transformed their entire classroom environment, using phrases from key visuals, and reading encouraging stories such as 'Giraffe's can't dance', portraying themes such as self-esteem, teamwork and encouragement. Through this framework, students have already begun to make connections to things they had trouble completing at the beginning of the year to skills they can do now, such as writing their own name.
"Listening to the students say 'I can't do it … yet' as opposed to 'I can't do it' is very encouraging. A sense of confidence has really started to take hold in our class. This is reinforced by the understanding that mistakes will be made. We work together creating a more positive outcome." Kindergarten teacher D. Yasko and Early Childhood Educator D. Vicedomini explain.
The classes will next learn to focus on goal setting! We can't wait to see how these growing leaders tackle their next project.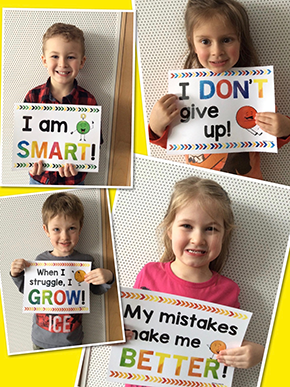 Students at St. Albert take time for self-care
The PEACE Program students at the St. Albert Adult Learning Centre practice mindfulness on a regular basis by engaging in yoga and meditation. Trisha, a teacher with the PEACE program has noticed a difference in the students' overall wellness since incorporating mindfulness activities into their daily routine.
"Our students come in each day carrying with them their entire experience. Their thoughts and actions are more influenced by their own state of mind than by anything else. By incorporating a short mind-body practice into our program, students shift to a state of calm and self-awareness that is necessary for emotional and academic success," T. Teale.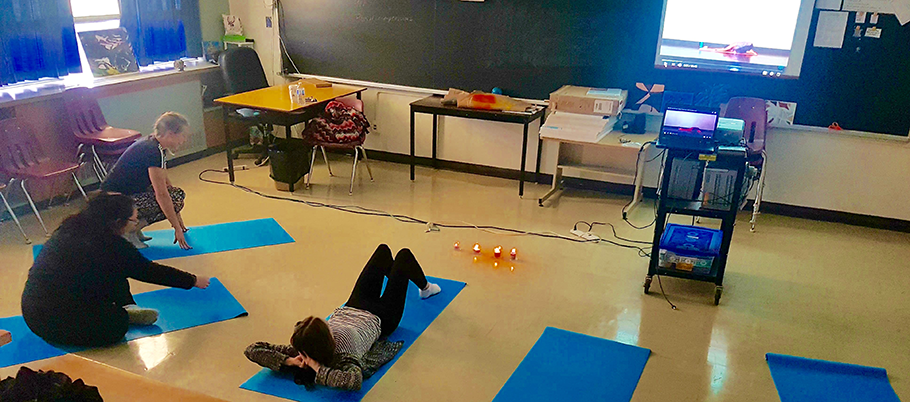 Wellness Resources – get in the know!
Living a healthy, balanced life can be difficult. We can all get so busy with our work and responsibilities that we forget to look after ourselves. Part of our mission as a Board is to nurture not only the mind and body, but the spirit of every individual. Check out this collection of apps that will assist us on our journeys to better health.
Get to know us! 
The Sudbury Catholic District School Board Wellness Committee's mission is to improve the overall health of our workplace and subsequently the wellness of all employees by developing, implementing and evaluating an inclusive workplace wellness plan, to support and nurture the mind, body and spirit of all staff. 
Our committee includes representation from our Senior Management, Principals, members from the Joint Health and Safety Committee, Human Resources, unionized and non-unionized employee representatives and our mental health lead.  The Committee works to improve our surroundings by liaising with the community, often working with resource specialists to gain advice and input on specific programs, goals and initiatives.
The Wellness Committee at Sudbury Catholic District School Board meets every month to improve our health and wellness strategy. Your Wellness Committee representatives are: Joanne Bénard, Suzanne Dubien, Patti Beltrame, Laura Kuzenko, Chantal Rancourt, Maurizio Depoli, Diana Salvador, Heather Geverding, Jean-Marc Joanisse, Kim Taylor-Horeck and Melissa Anderson. 
The Sudbury Catholic District School Board community thanks Patti Beltrame for her leadership and dedication to health and wellness. Patti served as the Chair of the Wellness Committee since its inception.