The air is changing, the leaves are falling and our staff and students are working hard to accomplish new goals this month! As our year begins to take shape, I encourage everyone to think about the many blessings that we have.  One of those blessings is the opportunity to work in an amazing system which promotes and supports innovation and a growth mindset.  As I think about what to write in this month's blog I am presented with a wonderful problem to try and decide what to highlight among the many amazing practices and activities.  That being said, this month I am going to focus on evidence to demonstrate how we are living out the strategic pathway of – We are called to promote innovation. This month I will also feature a new member of our SCDSB team, Alan Levesque, Manager of Facilities.  As always, if you have suggestions for future blogs let me know!
Leadership Day
Our school year began with a system Leadership Day! Senior Administration, Principals, Vice-Principals, Teachers and System Staff gathered together to analyze student data, identify our strengths and our needs and to plan how we can improve teaching and learning to make the 2017-2018 our best school year yet! It was amazing to be part of a collaborative learning opportunity with staff that is highly motivated, engaged, open to learning and creative in their approach. We had so much fun discussing with each other how to best meet the needs of our learners, and how each member of our well-rounded team helps to contribute to our goals every day.
Learning Commons
All four of our secondary schools now have amazing renovated library spaces called Learning Commons. Transforming the traditional library, each Learning Common is equipped with the latest technology including Green Screens, Ipads, laptops, GoPRO cameras, robotics such as Sphere-O bots and Ozobots and 3D Printers. The Learning Common promotes student collaboration, providing ample meeting spaces and outlets so that students may plug-in electronics as needed. The spaces are designed to accommodate both quiet and active spaces to meet the varying needs of students. Students can be found discussing, creating, studying, writing, drawing, building, meeting etc. Since completing our renovations and enhancing the programing, our learning commons are filled with students bringing a new vitality to our traditional libraries.  They have become the heart of the school – the place to be! I encourage staff and students alike to take advantage of the wonderful new Learning Hubs located at Bishop Alexander Carter, St. Benedict, St. Charles College and Marymount Academy!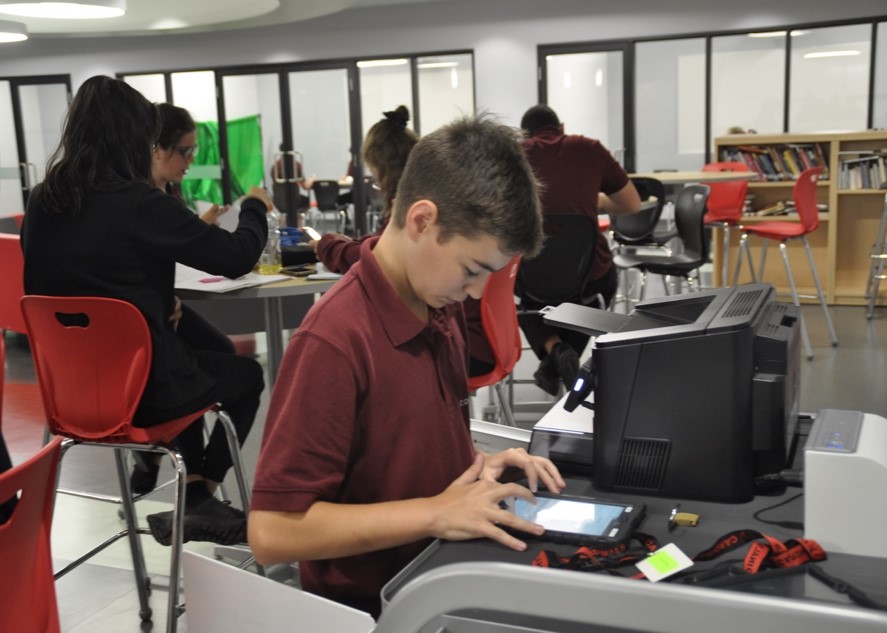 Transforming our Classroom Spaces

It is so exciting to be part of a school board that is always looking to enhance our learning spaces to meet the needs of the 21st century student.  With a focus on flexible learning spaces that promote collaboration, flexibility and sociability, we are setting out to renovate our classroom spaces.  In our classrooms, you will find a variety of different desks and chairs, including flow desks, stand-up desks and various technologies.  Below, are some examples of our newly renovated spaces.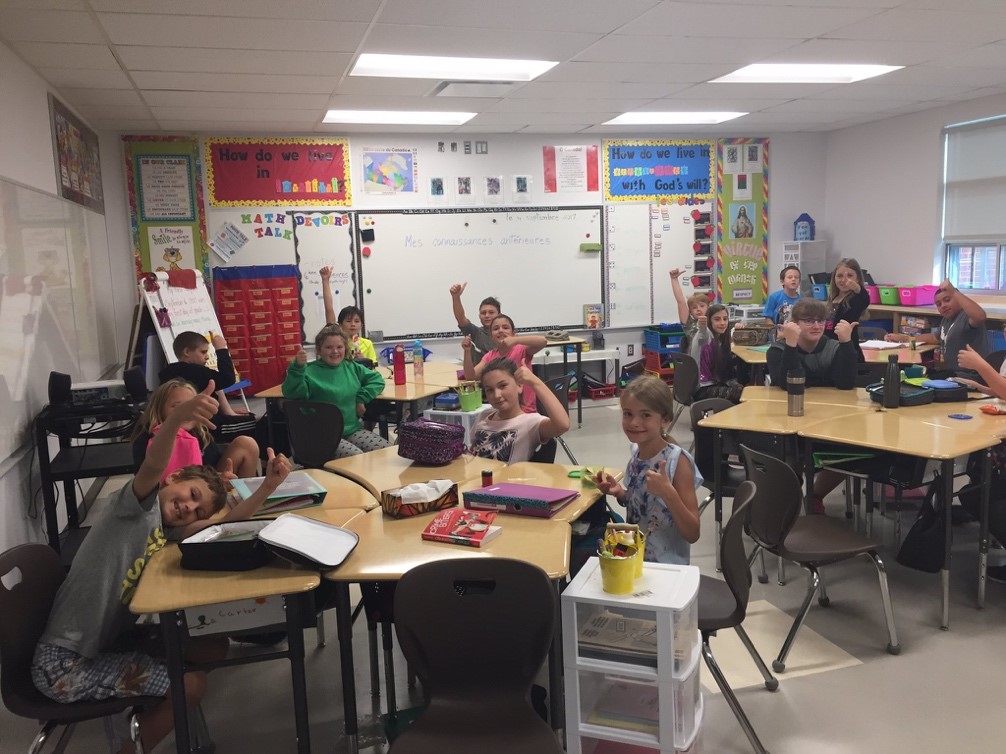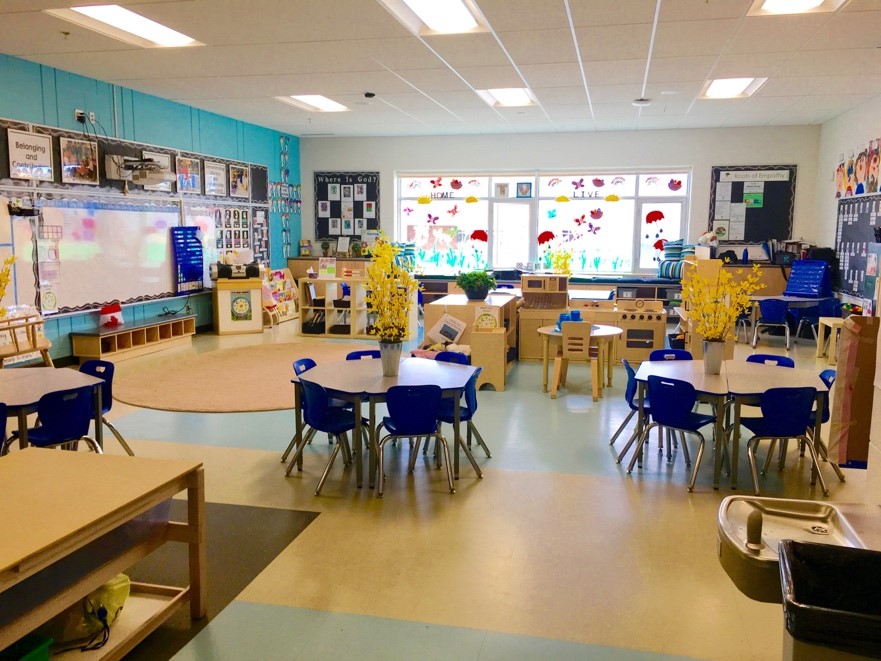 Innovation Fund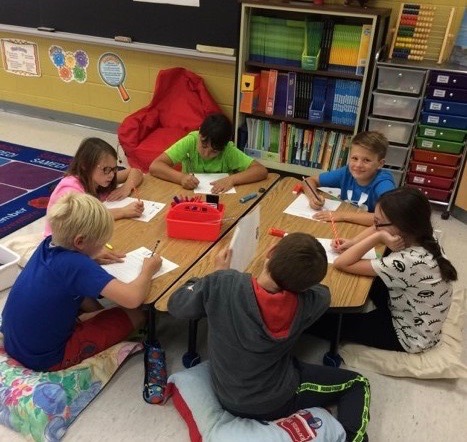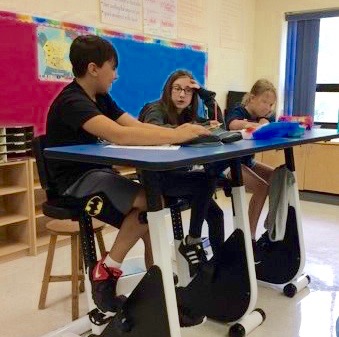 During the last school year our Board initiated the Learning Innovation Project Proposal (LIPP), an opportunity for our staff to further develop the skills necessary in order to bring innovation for deeper learning and to create sustainable practices that align with the board's mission, vision and strategic priorities. Through this program staff are invited to submit project proposals that encourage the development of the skills necessary to transform teaching and learning. We were thrilled at all of the proposals that came forward and were able to fund many of the projects last year and look forward to supporting other submissions this year.
Last Spring, Kyley McHugh, gr 4/5 teacher at St. James School, applied for a special LIPP grant in order to transform her classroom into a Kinesthetic Classroom. Kyley was awarded a $10,000 grant and transformed her classroom and her timetable using the philosophy and program outlined in "The Kinesthetic Classroom" by Lengel and Kuczala as well as "Ready, Set, Go! The Kinesthetic Classroom 2.0" by Kuczala and Lengel.
Research (Lengel/Kuczala 2010) shows there is a meaningful increase in academic achievement following exercise or physical activity. It also shows that movement allows for students to refocus and strengthen their ability to pay attention. Kyley wanted to provide students with the opportunity to experience an innovative kinesthetic learning experience. They are engaged in different types of movement and exercise throughout the day to help them stay engaged and focused thus improving academic performance. She is gathering data on their academic achievement and physical health, and will be sharing her successes with her colleagues throughout the year. She has already noticed a positive difference in her students' engagement and behaviour. "My classroom is a result of the board's Learning Innovative Project Proposal (LIPP). I wanted to make a difference in the lives of my students and through reading a lot of pedagogical articles and research, I found out that exercise improves physical and mental health as well as student engagement, focus and achievement. I can already observe and say that my students seem to be happier and are on task. Every day, we start with a 40 minute of intensivephysical exercise. Some of the students have expressed that there is a difference on the days they haven't started out with Physical Education, that they feel less motivated and engaged." K. McHugh
Get to Know us!
This month, I would like to introduce you to one of the newest members of our team, Alan Levesque. Alan is our new Manager of Facility Services, having started the position at the end of August. As Manager of Facilities, Alan works to ensure that the operations in our many schools and buildings run smoothly. He also has been learning about the ins and outs of our various large capital projects and our future plans. Alan was lucky enough to come in toward the end of the summer, seeing projects such as the Immaculate Conception construction come to life. He has been enjoying the challenge of his new role, and has loved learning about the culture of Sudbury Catholic Schools to determine needs and next steps! We are thrilled to have him on our team. 

"I am truly excited to have joined a Facilities Services Team that is committed to providing safe, functional and innovative environments for students and staff.  As a team, we will continue to focus on providing timely and effective service to all stakeholders," Alan Levesque, Manager of Facilities.