Program Description
Anishinaabemowin:
Native Language (Ojibwe) is taught at St. James School, St. David School, Holy Trinity School and Pius XII School as part of the Regular Program curriculum. Beginning in Grade 4, Native Language students receive 40 minutes of Native Language instruction each day.
Native Language skills are taught through themes based on students' interests and experiences. Learning activities centre around listening, speaking, reading and writing, and are designed to prepare students to apply their linguistic and cultural knowledge in real-life situations.
The goals for a graduate of our Native Languages program include:
understand key ideas of written materials on familiar subjects
follow oral instructions
take part in simple conversations on everyday topics
write short messages and letters
appreciate Native cultures and teaching including ceremonies, smudging and Pow Wow drumming
have the foundation to pursue fluency through further study or living for a time in a Native speaking environment
Our Secondary Schools offer a variety of First Nation, Métis and Inuit Studies courses. Please contact the school's Guidance Counsellors for a full list of course offerings.
Bishop Alexander Carter Catholic Secondary School Phone: (705)969-2212
St. Benedict Catholic Secondary School Phone: (705)523-9235
St.Charles College Phone: (705)566-9605
Marymount Academy Phone: (705)674-4231
Seven Grandfather Teachings

At Sudbury Catholic Schools, we strive to walk the path of the Seven Grandfather Teachings. The teachings represent the traditional concepts of respect and sharing that form the foundation of the Anishinaabe way of life. Each teaching honours one of the basic virtues intrinsic to living a life in balance and harmony with nature, family and community (adapted from The Mishomis Book: Voice of the Ojibway by Edward Benton-Banai).
Nibwaakaawin—Wisdom: To cherish knowledge is to know Wisdom.
Zaagidiwin—Love: To know peace is to know Love
Minaadendamowin—Respect: To honor all creation is to have Respect.
Aakode'ewin—Bravery: Bravery is to face the foe with integrity.
Gwayakwaadiziwin—Honesty: Honesty in facing a situation is to be brave.
Dabaadendiziwin—Humility: Humility is to know yourself as a sacred part of Creation.
Debwewin—Truth: Truth is to know all of these things.
Voluntary Self-Identification:
The Sudbury Catholic District School Board has implemented a voluntary Indigenous Self Identification policy to better meet the needs of First Nation, Métis and Inuit learners. It is the policy of the Sudbury Catholic District School Board to address the needs of Indigenous students who experience gaps in their education by putting into place measures that respond to their particular needs. All Indigenous students and their parents will be given the opportunity to voluntarily self-identify so that their academic needs may be better addressed. In its commitment to ensure these measures, the School Board will establish a self-identification procedure to identify, collect and aggregate student achievement data for Indigenous students.
Voluntary Self Identification allows the Board to collect and aggregate student achievement data to monitor the performance of First Nation, Métis and Inuit students. Continued data collection and analysis will provide information for future decision making, surrounding Indigenous student success. This policy will evolve as the Board seeks to improve achievement and program delivery for Indigenous students. For implementation and future refinement of this policy, the following principles will be used as a guide.
Implemented measures will be used and evaluated regularly based on their:
Transparency, Inclusiveness
Innovation, Learner-centered
Equality, Responsiveness
Collaboration, Respect on individual privacy and dignity
Results-oriented
Acknowledgement and reflection of cultural diversity
Contribution to the knowledge base through research
Student Leadership
The Police Mkwa Opportunity Education Circle:
The Police Mkwa Opportunity Education Circle was formed to create learning opportunities for Indigenous students residing in the City of Greater Sudbury and surrounding area who may wish to pursue a potential career in a law enforcement or criminal justice system field.
The program works to develop meaningful relationships between students and Greater Sudbury police officers through the establishment of a mentorship program for the students to learn skills and to enhance their opportunities in their pursuit of a potential career in a law enforcement or criminal justice system field.
Indigenous Education Logo at Sudbury Catholic Schools
Hauk is a student of St. Charles College and a graduate of Pius XII. He is from Sagamok Anishnawbek. He aspires to be a professional artist, specializing in Graphic Art.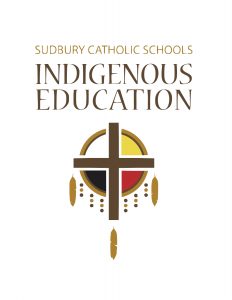 Truth and Reconciliation Commission: 94 Calls to Action (TRC)
"We are governed in our approach to reconciliation with this thought: the way that we have all been educated in this country…has brought us to where we are today—to a point where the psychological and emotional well-being of Aboriginal children has been harmed, and the relationship between Aboriginal and non-Aboriginal people has been seriously damaged… but education holds the key to making things better… if we agree on the objective of reconciliation, and agree to work together, the work we do today, will immeasurably strengthen the social fabric of Canada tomorrow."
The Honourable Justice Murray Sinclair
Chair, Truth and Reconciliation Commission of Canada (TRC)

According to Justice Murray Sinclair, chair of the TRC, education provides one of the greatest hopes for repairing cultural attitudes, redressing the legacy of Indian Residential Schools, and advancing the process of reconciliation.
The Calls to Action 62 and 63 specifically related to 'education for reconciliation' include:
• Make age-appropriate curriculum on residential schools, Treaties, and Indigenous peoples' historical and contemporary contributions to Canada a mandatory education requirement for kindergarten to grade 12 students.
• Provide the necessary funding to post-secondary institutions to educate teachers on how to integrate Indigenous knowledge and teaching methods into classrooms.
• Establish senior-level positions in government, at the Assistant Deputy Minister level or higher, dedicated to Indigenous content in education.
The TRC also calls for the Council of Ministers of Education of Canada to maintain an annual commitment to Indigenous education issues, including:
Developing and implementing kindergarten to grade 12 curriculum and learning resources on Indigenous peoples in Canadian history, and the history and legacy of residential schools.
Sharing information and best practices on teaching curriculum related to residential schools and Indigenous history.
Building student capacity for intercultural understanding, empathy, and mutual respect.
Identifying teacher-training needs relating to the above.
(Source: People for Education)
Assembly of First Nations
Inuit Tapiriit Kanatam
Métis Nation
Strengthening our Learning Journey