April 16, 2020
SCDSB Celebrates Earth Day!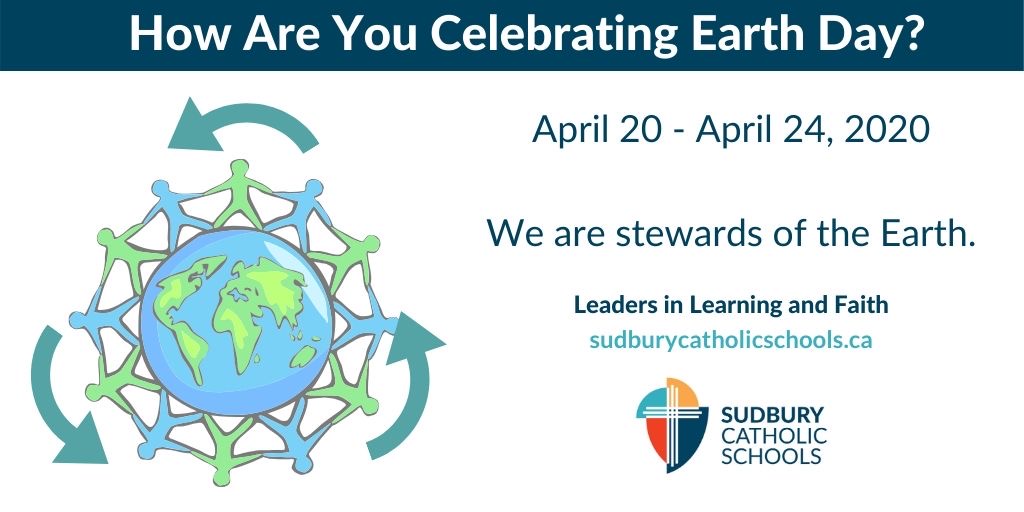 During the month of April, we celebrate the virtue of stewardship.
As Catholics, stewardship calls us to share our gifts of time and talents. This month we especially look towards our role as stewards of the environment. How can we act responsibility as keepers of the beautiful world God has given us?
Wednesday, April 22nd is Earth Day! And this year marks the 50th anniversary of Canadians' participation in Earth Day celebrations. Though we are not in our schools, as a community we can still mark the occasion by joining our collective efforts and celebrating this important day. Let's share the efforts our students can take at home, by showcasing how simple and concrete actions can lead to a positive impact on the environment.

From April 20-24th, we invite students to participate by submitting a digital format of their actions to Earth Day 2020 Entry Form. Please note, when submitting, participants will need to use a google account. This requires a Gmail e-mail address. For those that do not have access to their google account, submissions can be e-mailed to Joan Yawney at yawneyj@suburycatholicschools.ca.

Examples might include:
Make a pledge sharing your commitment to practice environmental stewardship
Write a poem, story, song, comic strip, etc. sharing your commitment to care for the earth
Show your creativity by creating an art piece using only recyclable items from your home or making a nature collage
As a family, commit to changing habits (turn off the lights, recycle, compost, etc.) and share your commitment
Pick up litter in your yard, ensuring to practice social distancing measures
Create an environmental ad in video format
Plant seeds and plan a home garden
Make seed balls to care for the birds
etc.
Earth Day 2020 Contest Entry Form
Earth Day 2020 Contest Rules