March 01, 2018
Pius XII School receives achievement award from EQAO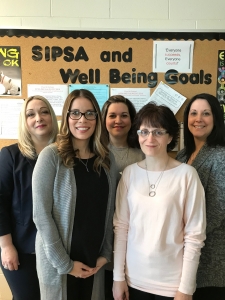 We would like to congratulate Pius XII Catholic Elementary School for receiving the EQAO Achievement Award presented by Education Quality and Accountability Office – EQAO.
Pius is being recognized for their ongoing improvement initiatives. Through ongoing monitoring and use of data, targeted growth mindsets for staff and students, and building relationships, Pius has increased success and achievement in their school community!
Pictured here are teachers Laurie Zahra, Sabrina Kutchaw, Amanda Schiavone, Ashlee Michelutti and Jill Loranger. Great work by all!