I can hardly believe that December is already here and that we are about to embark on another year! 2017 has been a year of transformation and growth.  We have launched our Multi-Year Strategic Plan, paving a new path and a new mission, vision and set of priorities to focus on. Many of our schools and classrooms are being transformed, creating more collaborative and innovative learning spaces for our students.  But one thing that has not changed, is how blessed we are to be a community of faith. Our faith is central to everything we do and we can truly celebrate this liturgical season of Advent.  During this season, we prepare ourselves to welcome Jesus.  We light our Advent wreath as a reminder that we are called to be light to the world in our words and in our actions.  I am so pleased to be able to highlight in this blog how our schools are shining a light on our community through their many acts of kindness and charity.  As we move through these final days of preparing our hearts and our homes, I wish you all a very blessed Christmas season.  Thank you for all that you do.  
Inaugural Board Meeting
Our month began with our Inaugural meeting held on December 5. We are thrilled to have both Michael Bellmore and Ray Desjardins retain their roles as Chair of the Board and Vice-Chair respectively! Our meeting began with a beautiful Mass presided over by Father Sam D'Angelo.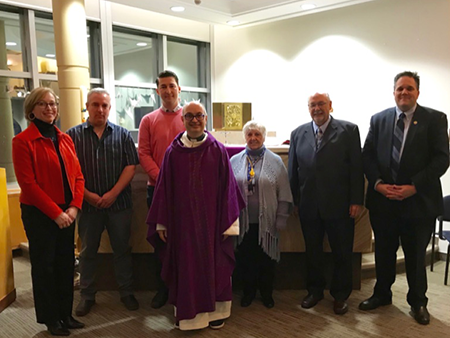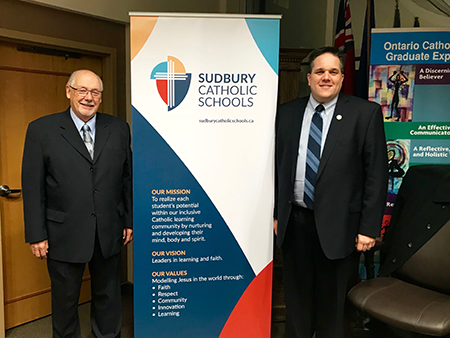 We celebrate our community by giving back!
The holiday season is not only a time to celebrate with friends and family, it is also a time to be grateful for all that we have and pay it forward so that our community as a whole can experience joy.
Our schools participate in holiday campaigns, gathering toys and donations, and spreading holiday cheer wherever they go! Here are just a few examples of our schools shining a light on our community! We have so much to be proud of.
TD Canada Trust ToyBank
Several of our schools participated in the annual TD Canada Trust ToyBank which supports the Salvation Army.
The staff and students at Holy Trinity were able to team up with Q92 Rock for a day of fun as they collected toys on December 1. This is the second year in a row that the school has been able to take part in the campaign.
Throughout the two-year campaign, the Holy Trinity school community has donated over 500 toys and $400 to help support those in need during the holiday season!

St. Benedict Catholic Secondary School also partnered with TD Canada Trust to participate in this campaign, providing many families across our community with joy! This is the fifth year in a row that St. Benedict school has contributed. Since they have started, the school has become the largest single contributor to the toy drive, providing the Salvation Army with 5400 toys since 2012! This year, the group managed to raise over 1500 toys and $300 for the cause.
Rob Pappin, Chaplain at the school believes that it is the students who are the biggest contributors to the campaign! "In collaboration with the Salvation Army, we are able to increase the impact of our donations.  It is really the students who encourage everyone to donate toys as a gesture of following the gospel message and living out the Ontario Catholic School Graduate Expectations." R. Pappin.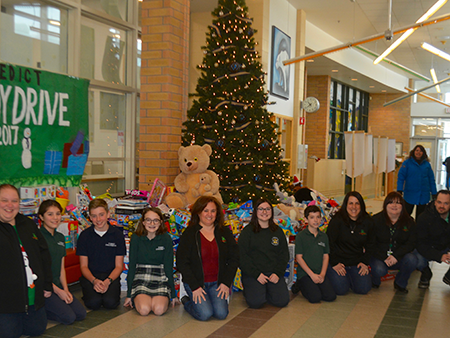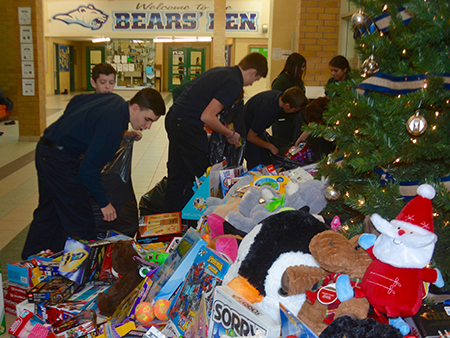 Fill-a-Crib Campaign
The "All We Need for Christmas" campaign helps support the Infant Food Bank, and many of our schools have chosen to help the young families in our community over the years. Holy Cross Catholic Elementary School has been donating to the campaign for the last few years. The community has contributed enough items to fill up two mini vans full of diapers, onesies, formulas and other necessities.
"This campaign is important to our school because the donations go directly to the children in our city. I think that it is important that our students see that, and understand that basic life necessities such as diapers, warm clothing and food sources are not always made available. We need to step up as community and support each other." P. Stefanuto.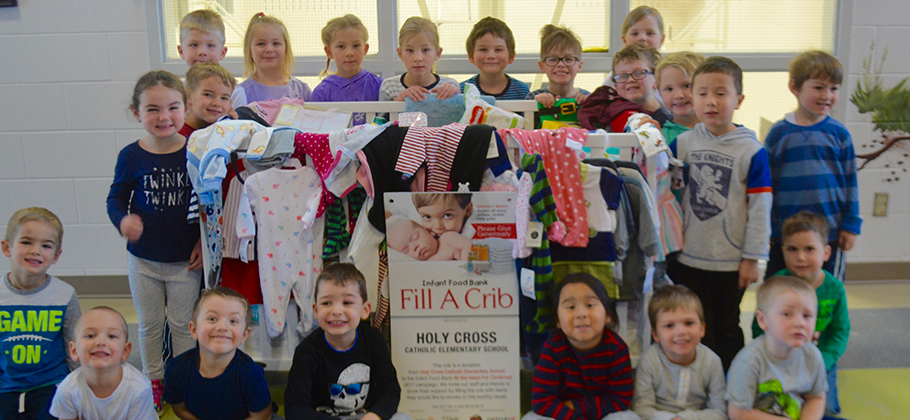 Marymount students work together to provide a happy Christmas for all
The Catholic Charities Council at Marymount Academy knows that the best way to spread Christmas cheer is to sing loud for the world to hear!
The students spent the morning of December 13 carolling through the halls of the CEC, making us all feel merry and bright! While the girls visited, they also sought donations for St. David Elementary school so that all students would have a happy and joyful Christmas! Throughout the day, the girls raised $305!
Abby Tullio, President of the Catholic Charities Council, said that it was a wonderful way to bring people together and support each other! "It was such a simple idea, but it truly affected so many people in such a positive way. By going around singing and having fun, we were able to bring joy to the students, teachers, and quite a few staff from the Catholic Education Centre. And on top of that, we were also able to support the students at St. David's, so that hopefully they will all enjoy this Christmas season." A. Tullio.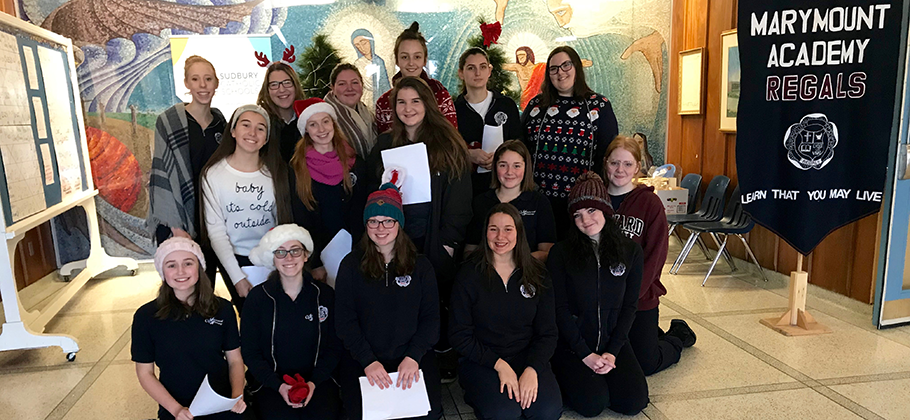 Spreading Holiday Cheer
Sudbury Catholic students designed the artwork for our Board Christmas cards! We thank all of the students for sharing their wonderful talent. This year's selections are below.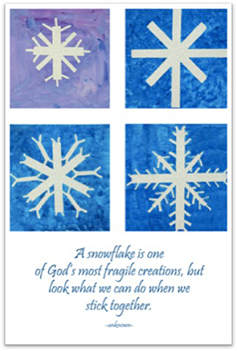 Get to know us!
At Sudbury Catholic, Joan Yawney-Matz is our Religious Education and Faith Development Consultant, K – 12. Joan works closely with Board staff, administrators, teachers, students and our religious leaders to assist Sudbury Catholic in providing quality, faith based education. Together, we ensure that the Gospel values of Jesus Christ permeate every aspect of our daily school life including curriculum, assessment, instructional approaches and teacher and student resources.
"Our homes, schools and parishes are interconnected. Together we support our children on their faith journeys. We live our vocation every day by striving to provide the best learning for each child to reach her/his potential. It is wonderful to be a part of a system who recognizes the uniqueness of the individual as they are created in the image of God." J. Yawney-Matz.
As we seek to improve the way we live out and give expression to our Catholic identity, I would encourage all members of our community to reach out to Joan to support you in your work.