November 01, 2017
Strengthening our Faith-based, Inclusive and Equitable Community
Director's Corner
It's the middle of the month of November already. The leaves have fallen and the cool air is with us once again. We are in our 3rd month of school and so much has already been accomplished. As I have with previous blogs, I struggle with what to focus in on, as there is always so much to be proud of both inside and outside of our classrooms – from the cleanliness of our schools to the caring individuals that make up the Sudbury Catholic District School Board Community. This month, I am going to focus on evidence to demonstrate how we are living out the strategic pathway of –We are called to strengthen our faith-based, inclusive and equitable community. You will see below some of the amazing things happening in our schools every day.  Our students and staff make many contributions to their schools, the community of Greater Sudbury and beyond.  I will also feature James Suchoplas, a special education teacher who is making a difference in the Care and Development classroom at St. Charles College. As you read this blog I urge you to think about the amazing power we have to make a difference.  "I can do things you cannot, you can do things I cannot; together we can do great things" (Mother Theresa).
November 17th PA Day
This month, we were so fortunate to be able to come together as a whole Board community at the November 17th Professional activity Day to reflect on the importance of "WHY" we do what we do every day. The day began with a Eucharistic celebration with celebrant Bishop Damphousse and our Priests and Deacons where we were able to express our gratitude and give thanks. The day provided many opportunities for our entire community to come together, show appreciation and thankfulness for each other. We also unveiled our new branding for our new mission, vision, values and strategic pathways. We are very proud of the direction that we are taking as a School Board, and we now have a beautiful new logo to match. Our new logo represents the mind, body and spirit, making up the complete student.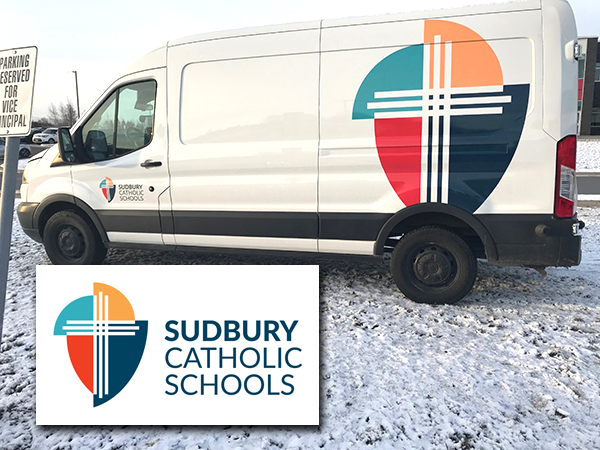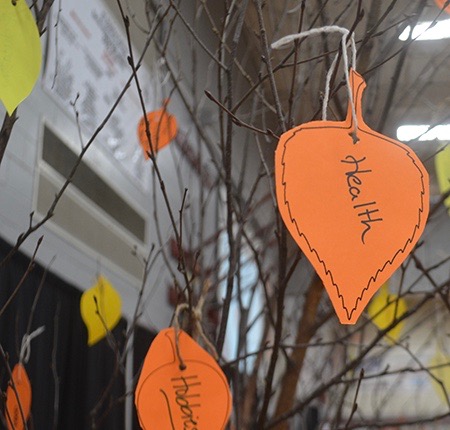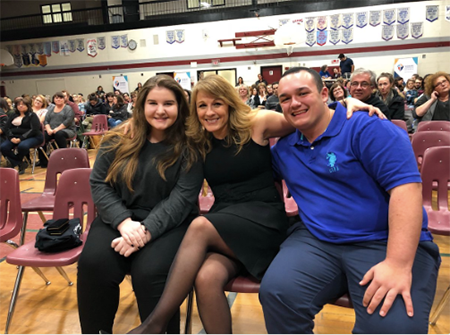 St. Charles College Raises over 175,000 cans in Annual Fundraiser!
All of our schools participate in fundraisers throughout the school year and contribute to our community and beyond.  This month I want to highlight the wonderful work in supporting our local food bank.  The students of St. Charles College with the help of St. David, St. John, St. Paul, Pius XII and Holy Trinity contributed to this great cause raising an amazing 175,533 cans and $25,000 for this year's food drive for the Sudbury Food Bank! Our students visited various homes and businesses in our community to canvass for the annual fundraiser. We extend our appreciation to the staff, students, parents and our community for their tremendous support. 
Principal Patty Mardero is very proud of her school for their ongoing commitment to the community! "Each year we set an expectation for the food drive and I am always so impressed when these students rise to the challenge to both meet and exceed that goal.  It really shows us that our students believe in the power of working towards a cause for the greater good of our community and to making positive contributions to our society.  This all truly is a part of our school motto of 'teach me Goodness, Discipline and Knowledge'." P. Mardero
Congratulations Cards on another successful campaign!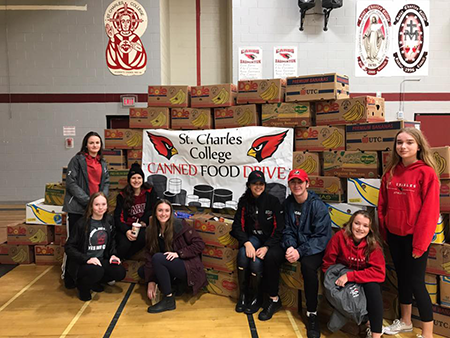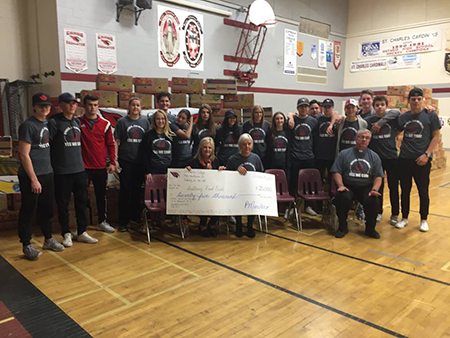 Marymount students continue work with Blue Door Soup Kitchen
For the past 8 years, students at Marymount Academy have been completing volunteer work for the Blue Door Soup Kitchen on a monthly basis.
Every 3 weeks, Chaplaincy Lead Jennifer Geddes takes a group of six Grade 9 students to volunteer their time at the soup kitchen. By the end of the year, the entire grade gets to participate in the experience. It is an opportunity to learn about one of Greater Sudbury's most used community services. The students prep the lunch, serve to the clients, wash and clean-up. The experience provides the girls with an opportunity to learn about homelessness and how to help others.
The students always walk away feeling proud of their involvement, with a better understanding about the importance of volunteers who contribute to organizations each and every day. Students even continue to volunteer with the organization long after their initial experience.
"We are so thankful to the Blue Door Soup Kitchen for giving our students this opportunity to volunteer. It gives our students a chance to meet some of the people facing homelessness and poverty right here in our city. Students often go to the soup kitchen feeling apprehensive, but invariably leave feeling less fearful, more accepting, and asking when they can come back to volunteer again!" J Geddes
Because of their long relationship with the Blue Door Soup kitchen, the girls also wanted to give back to the organization, who celebrated its 35th anniversary this past year! Art students created a beautiful mural to celebrate the organization and all of contributions they have made to Greater Sudbury!
Keep up the great work, Regals!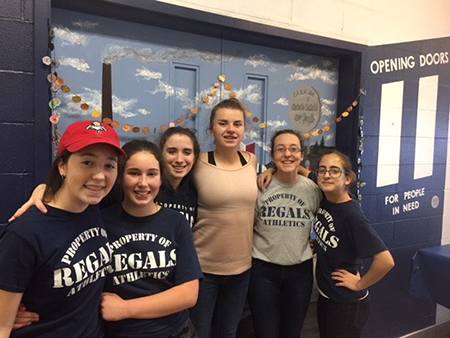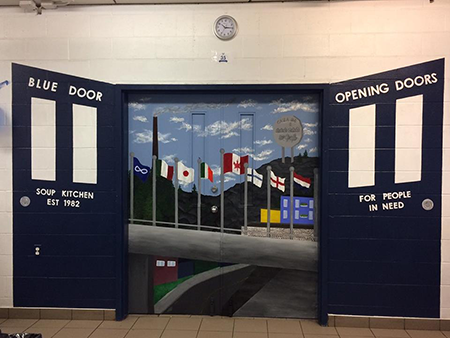 Care and Development Classroom makes positive impact at Pius XII!
The Care and Development program at Pius XII helps to support various students within our Catholic school community.
The Care and Development classroom has recently been renovated, now better built to suit their needs. The room is equipped with various touch and sensory devices, including quiet corner spaces and SMART Board technology to engage the students. Across the hall is the brand-new physiotherapy room. Every day, the hard-working educator teams  help the students learn to bare their own weight, helping  to develop strength.
This year, the group is focusing on communication. The 'Snoozlen room' is a multi-sensory room which focuses on interacting with the student's senses and cues. Whether it is by watching coloured lights and bubbles in the bubble tube, feeling the various materials or listening to the sounds, the goal is to have the students understand and react to the cues.
As with any great program, the Care and Development program has had its fair share of successes. Laurie Oliver, an Educational Assistant in the classroom describes a story that truly impacted her!
"Sometimes, it can take a while for the students to reach a milestone or goal. And when they do, it's always really rewarding. We had a couple of students who have learned how to pedal their bikes. Every day, our students pedal their bikes throughout the hallways at Pius. At first, we just pull them around the hallway so they can get a feel for it. In some cases, we might just do that for several years with a particular student. Then we start to encourage them to start to learn to pedal on their own. And one day they will just get it! And all of a sudden they're pedaling up and down the hallways, steering, changing speeds. To watch them progress and achieve those key goals is so rewarding for everyone involved!"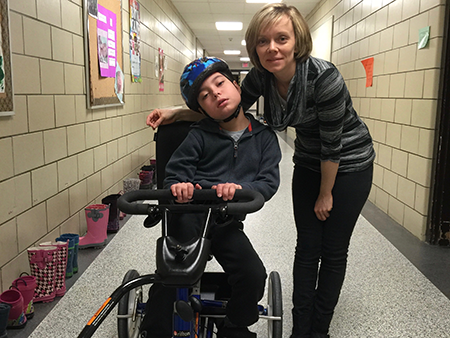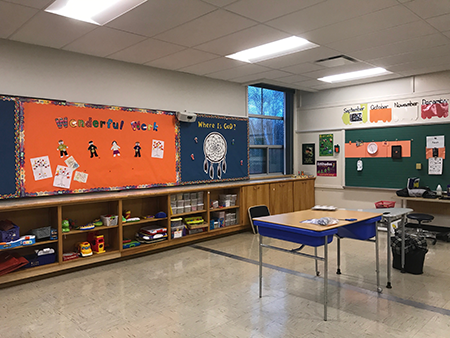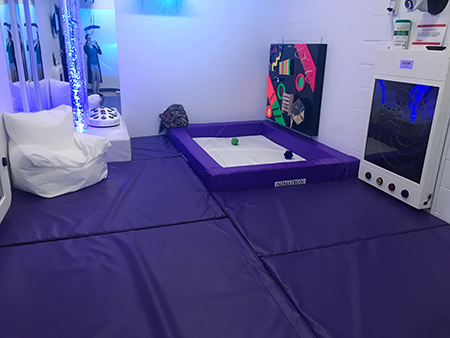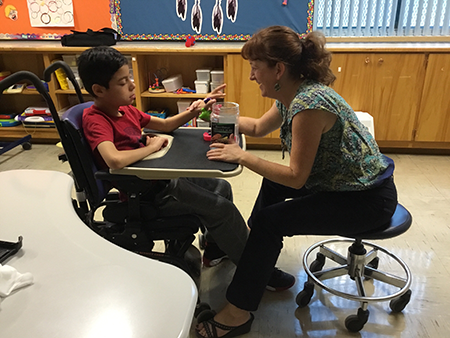 White Buffalo Circles Program Instills Self-Respect and Self-Confidence in Classrooms
Fostering positive learning relationships and honouring Indigenous identity is one way our Board is responding to the Truth and Reconciliation Commission's Calls to Action. Joel Agowissa, our Elementary Indigenous Support Worker, directs the White Buffalo Circles program, teaching both Indigenous and non-Indigenous students and teachers about the history, beliefs and cultural traditions of Canadian Indigenous peoples.  Using the Anishinaabe cultural teachings as a foundation, this program gives all participating learners an insight into Anishinaabe culture. Joel has visited many of our classrooms this past month, instilling the belief that young people who have self-respect and self-confidence are better prepared to cope with negative influences and peer pressure.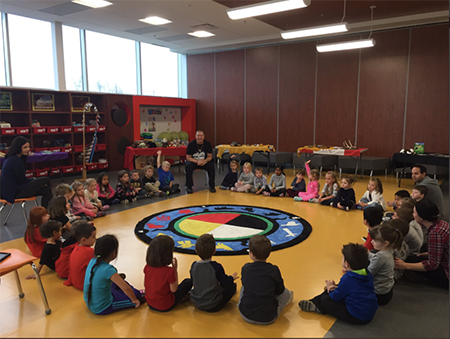 Mental Health Space at St. Benedict creating more hopeful and happy students
At Sudbury Catholic, we have been working very hard to provide services for our students that will enhance their mental health and well-being.  Our focus is trying to provide students with easy access to supports offered in a very warm and non-threatening environment.  One such program is our Mental Health walk-in clinic offered both at St. Benedict Secondary School and St. Charles College. The mental health space is currently under renovation at St. Benedict Catholic Secondary School in Sudbury, but Clinician Holly Graham says regardless of the location, the students need the support on a weekly basis.
Graham is the on-site Clinician at St. Benedict.  She says more than seventy-five students have been serviced since May 2016. Melissa Anderson, the Associate Director of Clinical Services with Child and Family Services says the organization was approached by the Sudbury Catholic District School Board in 2016 in an effort to explore projects that would support mental health services in the school setting.  
The project at St. Benedict started as an eight-week trial and has grown to two full days of support per week. 
Graham says the clients need help with anxiety, school, social and home challenges and she says "sometimes getting their problems off their chest makes them happier and more hopeful allowing them to turn their week around."Principal Laura Kuzenko has noticed the changes in the students in a short time. Kuzenko says "some mornings the students are waiting for the help due to something happening in their lives" and she is grateful for the support.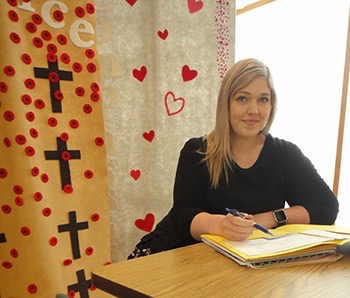 Sudbury Catholic Schools welcome 2 new French interns!
Both St. Benedict Catholic Secondary School and St. Charles College are hosting teachers from France, who are assisting with teaching the French Immersion students at both schools. Elisa Genevet and Morgan Flinois have been selected to promote French language and culture to enrich the Immersion experience for our students. It is very important to us that our students are exposed to a variety of French models to further develop their proficiency in both French and English. 
Elisa has been working with students at St. Benedict Secondary while also enjoying the many wonderful sights that Greater Sudbury has to offer. Morgan arrived earlier this month from Lille, France and is excited to work with the French Immersion students at St. Charles College. We welcome them both to the Sudbury Catholic Community.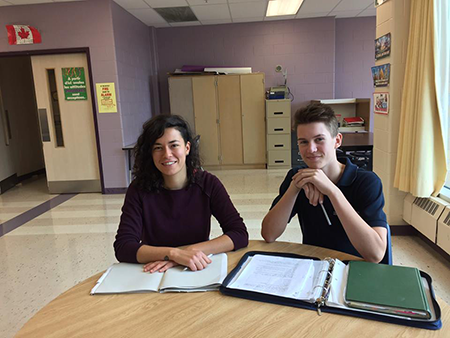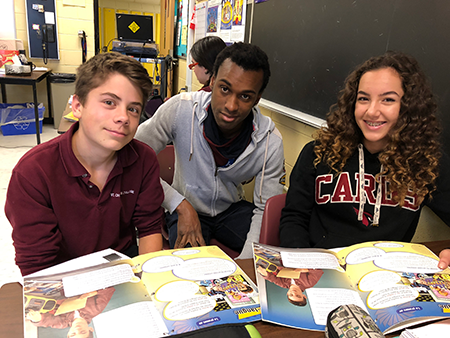 Get to know us!
This month, I am happy to feature James Suchoplas Special Education and ESL Teacher at St. Charles College. James works in the Care and Development classroom at SCC, where he ensures all of the students meet their unique developmental, physical and educational goals. The goal of the Care and Development program is to assist the students to move into a post-secondary program. James works with the other Educational Assistants in the classroom as well the physiotherapists and occupational therapists to develop curriculum goals on a daily and weekly basis. Having been a part of the program at Pius XII, James has seen notable success in the students as they move on to the SCC program. We thank James and all of our Care and Development teams for the difference they make each and every day!
"The Care and Development program here at St. Charles College is a vital component for our most vulnerable students. I work with a team of dynamic and passionate educational assistants and therapists to develop and implement a program and learning environment that meets the individual complex medical, physiotherapy, occupational therapy, sensory and academic needs of each of our students.  I am very blessed to be given the opportunity to work with a dedicated team and to know that our work positively impacts the quality of life for our students." J Suchoplas. Thanks James!