June 17, 2020
Three St. Benedict Students Receive Business Grants from Government of Ontario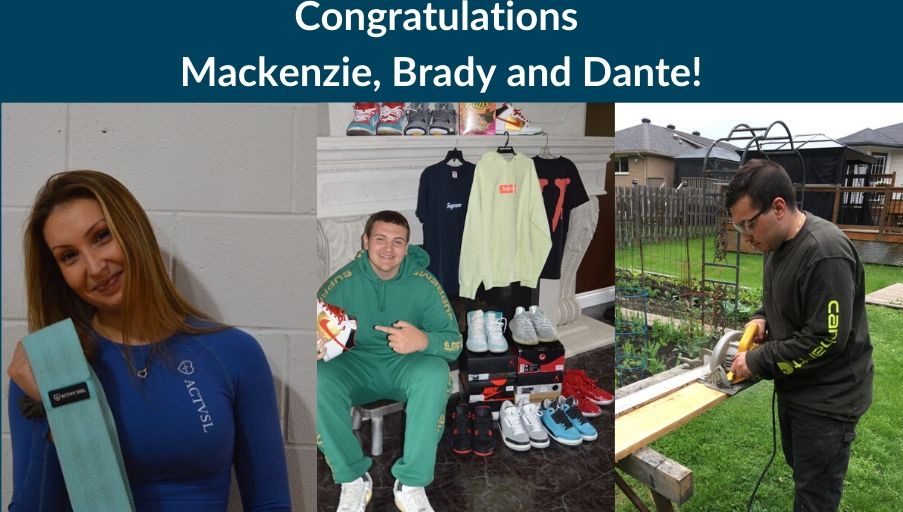 Three St. Benedict Catholic Secondary School students have received business grants from the Government of Ontario through the program Summer Company. Students were required to submit an application which includes a business plan and cash flow. Once approved, the projects will receive a maximum grant of $3000 to cover start-up costs and complete program requirements. The students will also receive advice and mentorship from local business leaders to help guide them.

The founder of Active Soul, Mackenzie Coggins has followed her passion within the fitness industry, by developing a business that inspires confidence. Active Soul will be launching their first ever comfort fit resistance bands that will intensify workouts for anyone. Mackenzie has taken it upon herself to ensure these resistance bands are made out of eco-friendly cotton as well as a premium non-slip and comfort grip hand woven design. Active Soul bands benefit customers by building stronger, rounder glutes while also developing better posture by using scientifically proven movements. Active Soul bands can be found at: https://active-soull.myshopify.com.

Dante's Custom Woodworking is a local start-up business that delivers elegant wood products to customers. The owner Dante Strangis has turned his passion for woodworking into something that all people can enjoy. Dante only uses the best materials, taking it upon himself to choose all materials by hand. Dante can also deliver custom wood engraving such as picture frames or plaques. He challenges himself to deliver the highest quality of products to all his customers and strives to meet their needs. You can text him at (705)-698-3864 and check out his website at https://dante2luigi.wixsite.com/mysite.
B-Hyped Kicks & Clothing is run by sneaker head Brady Howard. Inspired by his own passion, Brady wanted to create a business that allows people in North Ontario the opportunity to buy all of their "hyped" items and get them delivered right to their door, without having to worry about additional duty & custom fees. B-Hyped allows you to shop with confidence knowing that everything you buy will be 100% authentic or your money back guarantee. From new, used, and vintage, there is something for everyone! View more at: https://www.instagram.com/bhypedkicksandclothing/.

"As the business teacher, I'm really proud of these three students demonstrating such initiative. The business class at St. Benedict C.S.S has grown over the last few years, now offering students the opportunity to achieve a Specialist High Skills Major (SHSM) status. Along with the various field trips and co-op opportunities, I'm really excited to see these students demonstrate a youthful entrepreneurial spirit," states Giuseppe Politi, Business Teacher from St. Benedict Catholic Secondary School.

"It is with great pleasure that I congratulate the successful student finalists in the Summer Company program initiated by the Ministry of Economic Development, Job Creation and Trade. With this great start along with their tenacity, drive and entrepreneurial spirit, I am certain that we will be hearing more from these three business stars in the years to come," said Peter Prochilo, Superintendent of School Effectiveness for the Sudbury Catholic District School Board.

"On behalf of the Sudbury Catholic District School Board, I would like to congratulate Mackenzie, Dante and Brady for their accomplishments in the Summer Company program," said Joanne Bénard, Director of Education at the Sudbury Catholic District School Board. "We are so proud of our students in whatever goals they accomplish but are especially delighted when students are able to follow their passion and showcase what they have learned in their classrooms. We also thank their dedicated educators for their ongoing support for student leadership and entrepreneurship. Once again, congratulations Mackenzie, Dante and Brady, we can't wait to hear more about your successes and triumphs!"

For more information about the Summer Company program, please go to https://www.ontario.ca/page/start-summer-company-students#section-2.