November 02, 2021
St. James Students Participate in Live Inspirational Talk with Dr. Jane Goodall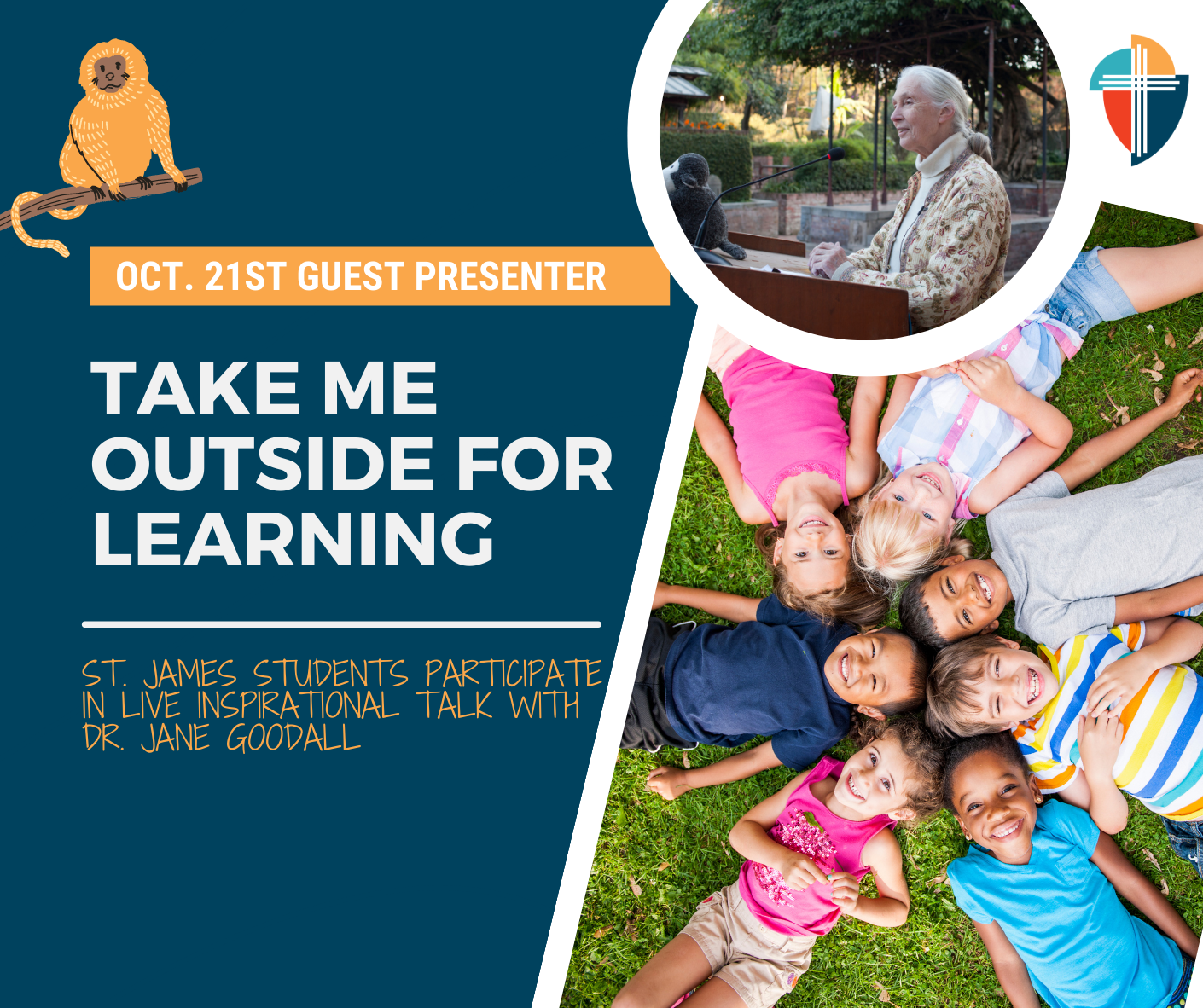 Students in Mr. MacNeill's grade 7 & 8 class signed up for the annual Take Me Outside for Learning Challenge. The challenge is a commitment to ongoing outdoor learning throughout the school year. Mr. MacNeill, his students and 700 000 other students across Canada made the commitment to learning outside at least one day per week.
This year marked the 11th annual Take Me Outside to Learn Day and in partnership with Canada's Non-profit Outdoor Learning Store and MEC, they hosted a full week of speakers, activities and events that not only engaged students but deepened their connections with Indigenous perspectives, strengthened their health and well-being with outdoor learning, and increased their knowledge on climate change and the environment.
On Thursday October 21st, Mr. MacNeill's class along with seven hundred classes across the country were excited to participate in a live inspirational talk and Q&A with Dr. Jane Goodall and the Jane Goodall Institute of Canada. Dr. Goodall spoke about growing up without television and social media and how she spent most of her time outdoors. She stressed the importance of living in harmony with nature as it improves our mental well-being.
The Jane Goodall Institute explained the opportunity for students to participate in their Roots & Shoots funding program. Roots & Shoots focuses on Jane Goodall's inspirational message of hope, reminding participants that every individual is important and every individual can make a difference. Through a unique 4-step program, educators lead youth from inspiration; to mapping their community for sustainability issues for people, animals and the environment; to taking action to solve those issues; and then celebrating the impact they have made. Through this journey, youth are engaged to take action on sustainability issues and become compassionate leaders.
We can't wait to hear about the action project ideas that Mr. MacNeill's class will discuss next week!

For more information about this initiative please visit Roots and Shoots or for additional support in filling out an application contact: christina.raso@sudburycatholicschools.ca