June 15, 2020
Sudbury Catholic Student Places Third in Skills Ontario Challenge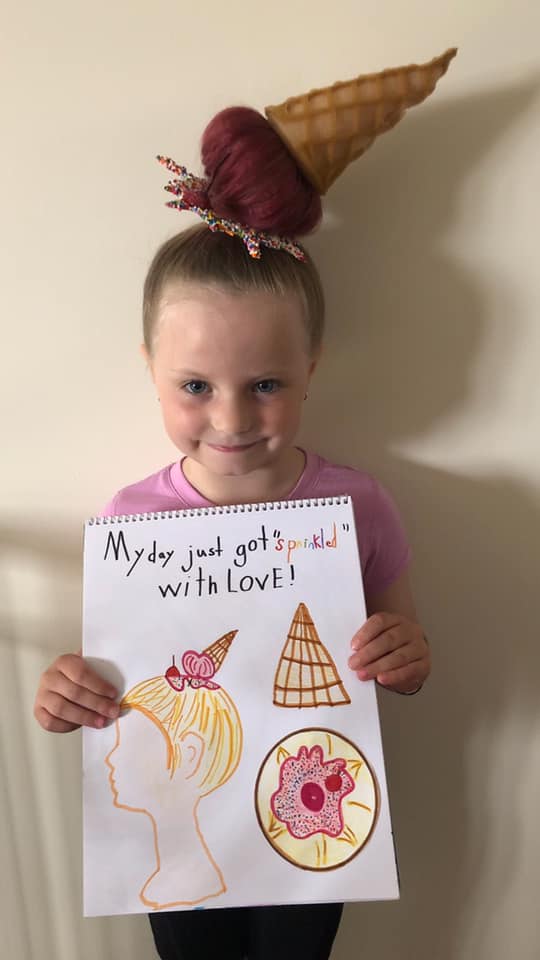 St. John Catholic Elementary School student Sofia Brine has placed third in the Skills Ontario Wacky Hair Challenge. Sudbury Catholic students have been participating in the #SkillsAtHome Challenge Series presented by Skills Ontario.

Sofia was excited to enter the contest and get creative with her hair! "I wanted to enter the contest because I love playing with my dolls hair and I love ice cream! What's better than ice cream hair!?" she exclaimed.

The #SkillsAtHome challenge allows students to explore the skilled trades and tech through a series of challenges without ever leaving home. Challenges have included: Rollercoaster Challenge, Cookie Challenge, Wacky Hair Challenge, Marshmallow Bridge Challenge and Tinfoil Boat Challenge. The next #SkillsAtHome challenge is underway and is a paper tower challenge. Submissions will be due on June 22, 2020.

"We congratulate Sofia and her efforts in the Wacky Hair Challenge! We are so proud of her and all of the Sudbury Catholic students who have participated in the challenges so far," said Joanne Bénard, Director of Education for the Sudbury Catholic District School Board. "We value our partnership with Skills Ontario which provides our students with hands-on learning opportunities such as these and look forward to continue to work with them in the future. "

Challenges will continue to take place throughout the summer months and we encourage students to continue to participate. For more information about the #SkillsAtHome challenge, go to the following website: https://www.skillsontario.com/skillsathome.