October 05, 2018
St. Charles College student Dana Lewis was crowned Miss Wikwemkoong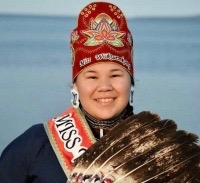 St. Charles College Student Dana Lewis was crowned Miss Wiikwemkoong during the Wiikwemkoong Cultural Festival in August. Dana, who is the goalie for the St. Charles College Girls Hockey team used her hockey skills in the talent portion of the pageant. She also won first place in the biography portion helping her to earn her Crown. Dana stated that she is very excited and honoured to represent her community at various events, celebrations and pow wows as Miss Wiikwemkoong. She was invited to speak about the missing and murdered Indigenous Women at the Sisters in Spirit Conference in October.
In Dana's biography she wrote: "Giving back to the community is a big part of who I am. At a young age I was provided with the teachings and knowledge for sewing and over the past years I started teaching young girls ages 7-12 how to sew. I facilitate many workshops showing the youth how to make their own regalia, hand drum bags, ribbon skirts. By teaching these youth, I'm passing down my knowledge of our culture for the next generation. I believe that we should be encouraging our next generations to continue with these teachings so they can teach the next ones. This is who I am, a daughter, sister, auntie, teammate, role model, teacher. I believe that becoming a leader takes time, and that Miss Wiikwemikoong will provide me with the experience to one day be a strong leader for my community, my people, my nation."
St. Charles College is proud and honoured to celebrate Dana's triumph with her, her family and community.