May 25, 2018
St. Benedict students are embracing the universal language of coding!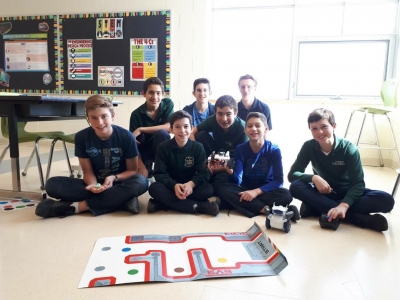 Grade 7 & 8 students are using their creative and fluid minds in the new coding room that they call their very own. Students have been working with different fun coding gadgets like Sphero's, Code Gamers, Cyber Robots and Lego Mind Storm kits. A couple of our grade 8 students participated
Coding is a form of digital literacy, which is useful in everyday life. St. Benedict students are learning many traits and cognitive skills like perseverance, computational thinking, logic and problem solving while participating in the coding club.
Wil Pudapakkam is a grade eight student. He says "If you know how to code you can make apps, games and websites, which essentially entertains students and makes them happy."
Another grade 8 student named Tyler Smith says "As the world get's more technologically advanced, coding becomes more essential in getting a job, as there are more opportunities these types of fields."
Our students participated in a presentation/workshop put on by the YMCA that is designed to help bridge the gap between youth in underrepresented groups and provide the digital skills that are critical to economic participation. The pilot will focus on building digital literacy skills, enabling participating youth, aged 12-16 roughly, to build a foundation for future engagement in STEM careers and the digital economy. Many of our students will be participating in the free 8-12 week program, which will run at the beginning of June at the YMCA.