April 23, 2018
How you can support Catholic Education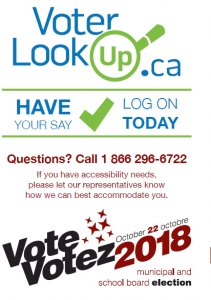 Ensuring you are registered as a separate school supporter is important for the protection and preservation of Catholic education in Ontario. Catholic ratepayers must declare themselves to be Catholic and separate school electors to vote in the election of separate school trustees in Municipal elections.
How to check if you are registered:
• Visit www.voterlookup.ca to check the accuracy of your voter information.
• Call you Municipal Clerk's Office to inquire how to check the local list of electors.
If your name is not on the list of electors or if the information is incorrect, you should:
• Update or change the information, add a name to an address, or change your school support directly on the www.voterlookup.ca website.
At the Polling Station:
• Verify that you are registered as a separate school supporter. If your support status is incorrect ask for an "application to Amend Voters' List, which may be completed and submitted at the polling station.
• Ensure the ballot you are given is a separate school ballot.
For more information about the Ontario Municipal and School Board elections, please visit http://www.elections.ontarioschooltrustees.org/.