October 06, 2017
St. Charles College Presents Disney's Aladdin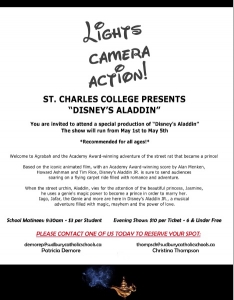 Welcome to Agrabah and the Academy Award-winning adventure of the street rat that became a Prince!
Based on the iconic animated film, with an Academy award-winning score by Alan Menken, Howard Ashman and Tim Rice, Disney's Aladdin JR> is sure to send audiences soaring on a flying carpet ride filled with romance and adventure.
School matinees are $3 per student and evening shows are $10 per ticket.
Contact St. Charles College for more details.