June 15, 2017
Cards Raise Over $21,000 During Relay for Life Event!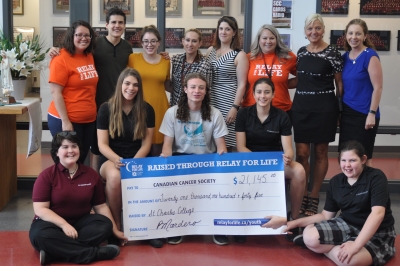 The St. Charles College Cardinal Relay Committee presented a cheque of more than $21,000 to the Canadian Cancer Society during their annual Relay for Life event.
Lead organizers, Jennifer Humphrey and Krystal Rewega are looking forward to next year. Principal Patty Mardero says "it doesn't matter what goal is set for the Cards, they always have a way of meeting and also exceeding their target which is a true testament to their character and strength."
Popular radio personality DJ G-Rant of The New HOT 93.5 led the troops early Tuesday with an inspirational speech highlighting his own personal battle with the disease. He encouraged the students to give blood when they are the legal age to do so. He also inspired the students to think about their legacy in the world long after they are gone. He also participated in the highly emotional Survivor's lap – where students, parents, grandparents and staff members who are fighting cancer walked together in unity with all other students following suit as their allies and supporters.
The day-long event featured water balloons, bucket drops, lots of music and entertainment, yoga, Zumba and many other activities to keep the students motivated and having fun throughout the day.