June 17, 2016
St. James student throws ceremonial pitch for the Blue Jays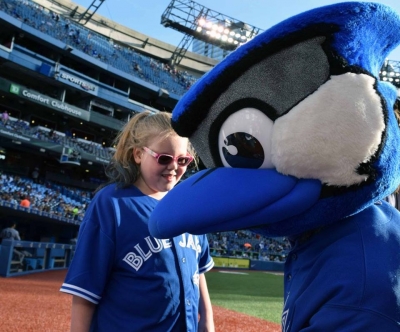 June 1st was a special day for Lauren Jolette, a student from St. James Catholic School in Lively. She was chosen to throw the ceremonial first pitch at the Blue Jays game to launch the Deafblind Awareness Month. She was surrounded by family and many friends, as well as her intervenor, Doris Connors, from the Sudbury Catholic School Board.
"There's so many people here and I'm so nervous!" exclaimed Lauren as she stepped foot onto the field and looked out at the bleachers.
Lauren tossed a perfect pitch to Josh Thole, the team's catcher, with dad and Ace, Blue Jays' mascot, by her side.
Congratulations, Lauren!