May 26, 2016
St. Anne Catholic School Raises $17K for Cancer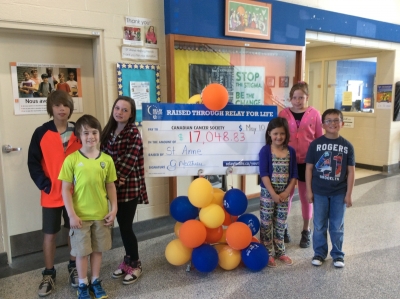 On Friday, May 6, 2016, staff and students at St. Anne Catholic School reached what at first seemed like an impossible goal: they raised over $17,043.83 for cancer! A 'Relay for Life' campaign to raise funds for the disease was launched at the school for the third consecutive year. The initial goal set by the staff and students was to raise $1.00 more than last year's total of $13,870.00. Little did anyone know at the time that the students at the Catholic School in Hanmer would surpass all expectations!
The campaign, organized by Lillian Novosel, a teacher at the school, came to an exciting conclusion at the end of Catholic Education Week. Since the students were able to reach their fundraising goal, they will be rewarded with a number of special activities in recognition of their efforts. Mr. Mathieu, Principal at the school, commented that "the staff and students did an amazing job in coming together for a cause that touches everyone. Once again, we are reminded of how special the St. Anne Catholic School community truly is."
Relay for Life is an event that helps build community spirit by bringing students and staff together for cancer, a cause that affects everyone. It is a great event for people of all ages, interests, and ability levels. Relay for Life provides a leadership opportunity to students who can help plan and participate in the event. This student-led initiative teaches us all about the value of charitable causes and volunteer involvement. Way to go Angels!