May 06, 2016
State-of-the-art Sensory room at St. Charles College unveiled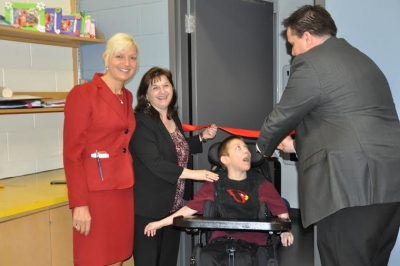 The Catholic Education Week theme "opening the doors of mercy" could not be more fitting with the opening of the Snoezelen room at St. Charles College. The state-of-the-art sensory room has been officially unveiled even though it has been used by the students in the Developmental Disability room for the last couple months.
Classroom teacher, Gregg Kolodinski has been working with the students for six years and says "In the past, the students would have to travel by handi-transit in all kinds of weather conditions to get the sensory stimulation that they needed at a Snoezelen facility at Pius school." Now that calming and soothing facility filled with music, lights, bubbles and vibration is housed right outside the classroom doors.
The term Snoezelen, was coined by blending the Dutch word "snuffelen" or explore with "doezelen" or doze. These world class rooms were developed in Netherlands as a non-direct means of support for students who are autistic or have developmental disability that requires a multisensory approach to learning.
Special Education Consultant, Christina Raso and Special Education Resource Teacher Jodi Cunningham were also on-hand for the unveiling and have been instrumental at seeing the 200 thousand dollar project to fruition over the years. Cunningham says "The students who require this multi-sensory approach to learning are the most vulnerable students in the building and it is great to see that the Sudbury Catholic District School Board is making this valuable and rewarding investment for the growth of these students."