February 11, 2016
BACCSS Student Following His Passion to Success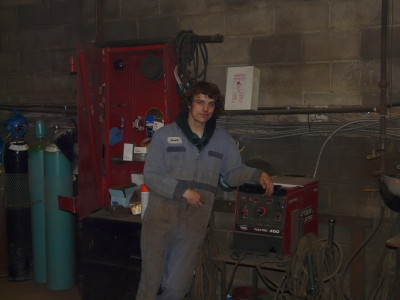 A teenager's life is filled with many decisions. Choosing courses and a career destination can cause stressful situations, but as Alex Laurin leant, it is important to choose a career that you love to do. Alex, a grade 12 student at Bishop Alexander Carter, started his grade 9 year in the pathways program. He often thought about architecture and tried to upgrade a few classes but struggled, especially in math he said. Deep down he knew that university and college would not be his destination. It simply was not for him. Alex's destination was the workplace.
Alex met with the guidance counsellor at the school, Heather Duguay, to explore career options. He loved the thought of being able to design things. With encouragement from Mrs. Duguay and his parents, he enroled in the Specialist High Skills Program (SHSM) in Manufacturing and Robotics in the school.
"I was surprised to find out I was really good at welding", Alex explained. "I love to create and make things with my hands".
Discovering his new talent, Alex set his own goals and discussed these with his parents. He felt that his parents were excited that he found his passion.
"My dad was really supportive of my career goals. They bought me my own welding mask and boots".
Today, Alex is finishing his SHSM course and is completing his coop placement at Belanger construction. He is a registered OYAP (Ontario Youth Apprenticeship Program) student through the MTCU (Ministry of Training, Colleges and Universities) and a registered level 1 apprentice through the College of Trades. Alex has been a valuable asset to Belanger Construction and they encouraged him to write his Canadian Welding Bureau test (at the employer's cost). Alex was successful in this test and has obtained his welding certificate in shielded metal arc welding. His advice for students, "Work hard and know what you are getting into and do your research into career option. But most of all, enjoy it!".