January 22, 2016
Celebrating A Saint Who Believes the St. Charles College Motto of GOODNESS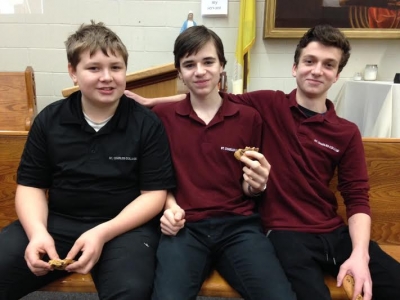 Students at St. Charles College celebrated St. Anthony of Egypt this week at their monthly Saint service celebration.
Deacon Steve Callaghan says it is a fitting Saint for students at SCC to celebrate him because he believed in serving the Lord to be one as a Christian community and this is the week of Christian unity. It is also timely because SCC does serve and give back through their Christmas campaign, Chalice collection and the canned food drive just to name a few of the initiatives.
Teacher Carlo Pastre who helps organize the saint days says "Saint Anthony lead a solemn lifestyle by himself and prayed about praising God.
His call was to serve the Lord by retreating."
The monthly Saint celebrations at SCC offer students a service complete with communion, as well as treats for the students afterwards.