July 28, 2015
Working with Community Partners at SCDSB Summer School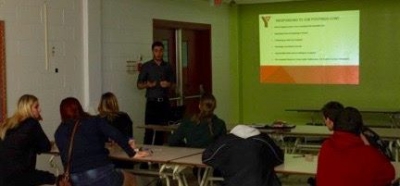 As everyone knows a good resume is the first step to getting the job you want and then you need the right skills for the interview. It can be a scary process but with the right preparation it doesn't have to be.
YMCA Employment Services presented a workshop for our SCDSB Youth Counsellors on creating resumes and preparing for a job interview.
Pictured is Jesse Seguin an Employment Consultant-Summer Job Services for YMCA with our Youth Counsellors.
A big thank you to the Sudbury YMCA!