July 28, 2015
Activate them for life!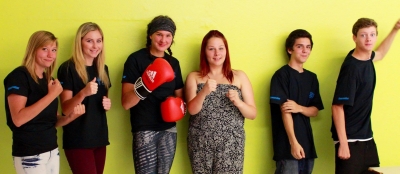 Amber Konikow a member of The ESTEEM Team, a nation al, not-for – profit program of Motivate Canada that brings Olympic, Paralympic and National calibre athletes to schools in Canada to inspire and activate young people to set and achieve their goals.
Through their life stories, ESTEEM Team athletes effectively speak, entertain and engage students in grades 4-8 and 9-12, all with the objective to:Inspire young people to pursue what they want in life 
Educate them in the processes that lead to success. Highlight the importance of health, sport and physical activity and their role to overall wellness and success in life. Amber is a 4-time Ontario provincial boxing champion and earned the title of Canadian boxing champ in both 2007 and 2008. On the world stage, she competed at the women's world boxing championship in Ningbo city, China in November 2008, and did her country proud when she took home the bronze medal.In the last 4 years Amber has been running ultra-marathons starting distances at 50km to 273km. She had raced in Iceland, the Grande Canyon and will be racing in Quebec this September.Amber 's next event takes place in Alberta Aug 1st, 125km Canadian Death Race. Amber is a running coach for the Sudbury's Triple Threat Triathlon Club. 
In addition, to being a member of the Esteem team Amber is a personal trainer and offers services through Ultralouie Coaching in Sudbury. Amber took some time to meet with the Youth Counsellors from our Summer Camp on Friday to bring a message that with hard work and determination they too can become all they want to in life.