March 05, 2015
Alpine ski coach Dan Bartolucci honoured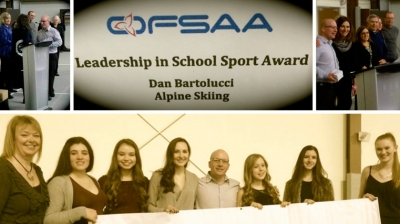 Dan Bartolucci has been coaching Alpine Skiing for 14 years at Marymount Academy and OFSAA recognized his contributions to this sport by honouring him with the "OFSAA LEADERSHIP IN SCHOOL SPORT AWARD" at the banquet on February 23rd.
The OFSAA Leadership in School Sport Award is presented annually at each OFSAA Championship to a teacher-coach who has made a significant contribution to the educational athletic program. The recipient of this award exemplifies the values of fair play and good sportsmanship, while promoting enjoyment, personal growth and educational achievement through school sport.
Dan has coached his Alpine Skiing team to many city and NOSSA championships and has sent skiers to OFSAA for the past 6 years. His dedication, not only to Alpine Skiing but to Soccer, Badminton, and Flag Football make him an exemplary coach and leader. Congratulations Dan on this well deserved recognition! We are extremely proud of you!