January 30, 2015
St. John hosts the Canadian Hearing Society on Literacy Day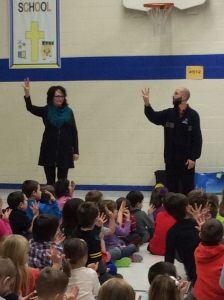 St. John students had a special Sign Language presentation for Family Literacy Day. Pat and Lise from the Canadian Hearing Society showed students how Communication and Literacy comes in many different forms such as, writing a grocery list, reading a newspaper, reading a recipe and using Sign Language. Pat is the Deaf Literacy Coordinator and Lise is the 'interpreter' with the Canadian Hearing Society.
The morning began with the sharing of a story followed by a song called, Don't Laugh at Me. The song fit well for Pat, as he is deaf, and he placed himself as the character signing the lyrics as they read, "I'm fat, I'm thin, I'm short, I'm tall, I'm deaf, I'm blind hey aren't we all….someday we'll all have perfect wings, don't laugh at me."
As the presentation ended, students were introduced to various vocabulary and they attempted their signing skills with hand expressions. Peculiar and familiar hand shapes had students interact with curiosity and laughter. At the end of the presentation, all of the students used 'sign language' to clap by raising their arms waving their hands to clap in appreciation.