September 23, 2014
St. Charles College Students Trapping Bugs for Guelph Research Institute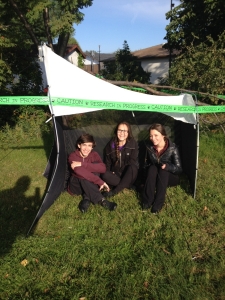 The grade ten Science classes are taking their studies outside by trapping insects. Teacher George Fritz has partnered with the Biodiversity Institute of Ontario at the University of Guelph to sample the insect community in the St. Charles College school yard.
One of the classes set-up what is known as an "insect malaise trap" to collect specimens. The students will now spend the next two weeks monitoring what is caught in the trap. Fritz says "students will also have to note environmental conditions and the number of insects caught."
After the sampling period, the specimens will be returned to the BIO facility in Guelph where the DNA of the insects will be barcoded for species recognition, and added to the Institute's database.
Later on in the semester, the class will receive a report on the insect specimens. Fritz is hoping that the process leads to new information being added to the database.