May 23, 2014
Spring Chicks are Back at St. David School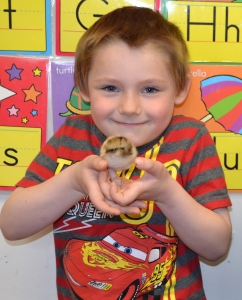 The St. David Catholic Elementary School junior kindergarten classroom has been filled with anticipation and excitement over the last couple of weeks. Lindsay Michel, the school's junior kindergarten teacher organized the hatching of chickens in her classroom.
Mrs. Michel's aim was to provide a thrilling educational experience for her young inner city students. St. David School is located in the Donovan area of the city. Mrs. Michel wanted her students to experience the joy of life while learning to build empathy for other forms of life. The students watched patiently as their eggs hatched and new born chicks emerged from their shells.
The St. David junior kindergarten program meets the needs of young inquisitive learners by providing them with the opportunity to participate in hands on, child centred, inquiry based learning. It is through a relationship building focus that the school creates an environment that supports student engagement and real world learning experiences.