May 13, 2014
Writing Our Chalice Children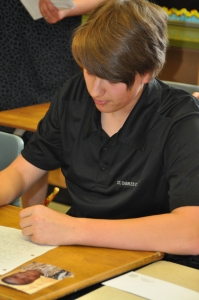 Students in St. Charles College teacher Elizabeth Szilva's Grade 11 English class have been writing letters to children in far off places. The students have been contacting the Chalice children that are sponsored by the school community during the Lenten collection.
Chalice is a Catholic sponsorship program that helps impoverished children with educational support, nutrition, medical care and other needs. Many of the children sponsored by St. Charles College live in places like India, Guatemala and the Philippines.
Students in the Grade 11 English class also learned about the Chalice organization and the success it has in helping students who are living in deplorable conditions.