March 28, 2014
Twin Day at St. Charles Elementary – Would the Real Mr. Soehner, please stand up?!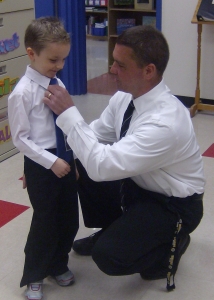 The RAM school spirit was alive and thriving at St. Charles Catholic Elementary School once again! Staff and students coordinated outfits to look like a twin or someone they admired. They were seeing double all day as they travelled the halls!
Buddy Luoma, a year one FDK student, wanted to dress like his principal, Mr. David Soehner. They both planned to dress the same. On the morning of Twin Day, Buddy stopped in at the office to show Mr. Soehner how he was dressed up just like the principal. Much to Mr. Soehner's surprise, several students and staff also dressed up in the black pants, dress shirts and ties!! By lunch time there were 18 Mr. Soehners walking around the school, complete with ID badges and all!