November 22, 2013
Students Teaching Students About Bullying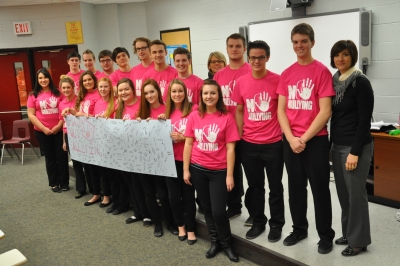 Talking to or at students doesn't always get an important message across to kids or teenagers. That's why students in the senior Leadership class at St. Charles College were in charge of this year's grade 9 anti-bullying retreat.
Grade 11 student Owen Krystia created a 40 minute highlight video featuring popular You Tube videos including Amanda Todd and Emily Osment who experienced cyber bullying.
The students then reported to their second class of the day and discussed a series of value statements with the leadership students to generate discussion and debate relating to issues such as social media and bullying.
Teacher Beverley Belanger who teaches the Leadership class says "the students teaching students approach works because kids can relate better to each other and feel more comfortable when opening up especially with such a sensitive topic like bullying. Just allowing the kids to watch this video is eye opening – there was not a dry eye in the house and no one needed reminders to be quiet."
Grade 9 students were also encouraged to sign an anti-bullying banner and to think twice the next time they find themselves in a situation where they have the choice to "stamp out bullying".