November 22, 2013
St. Ben's Robotics Team Mentor Rookie BAC Team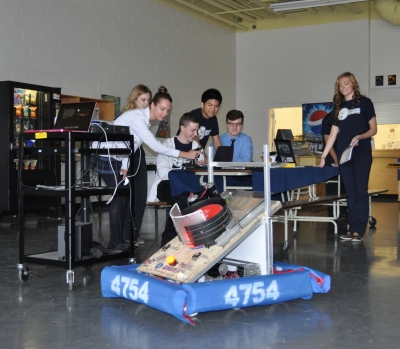 On November 14th, 2013, seven St. Benedict Catholic Secondary School students along with the teacher lead, Julianne Falconi, conducted grade level presentations to Bishop Alexander Carter students.
St. Benedict was the first school in the Catholic Board to participate in FIRST Robotics, an innovative competition that combines the excitement of sport with the rigors of science and technology. Under strict rules, limited resources, and time limits, teams are challenged to raise funds, hone teamwork skills, design, manufacture, and program robots to perform prescribed tasks againstt a field of competitors (www.usfirst.org). Last year, team 'RoBenedicts' attended a regional competition in Toronto as well as the World Championships in St. Louis, Missouri.
St. Benedict is excited to announce that there will be two new schools joining in on the robotics program: Bishop Alexander Carter and St. Charles College. St. Benedict will be mentoring and guiding these two teams throughout the off-season, robot build-season, and competitions. "We are happy to be mentoring other schools that are participating in FIRST Robotics. The experience is incredible and it's exciting to see more people getting involved," said Team Captain, Mark Abantao.
The goal of the presentation was to spark student interest and recruit members for the newly formed BAC team. Overall, it was very successful, and the St. Benedict students will be attending St. Charles on Monday November 25th.
In attendance from St. Benedict were Mark Abantao (Team Captain), Max Bennett and Brendan Sullivan (Engineering Leads), Elisa Basik and Francesco Modesto (Business Leads), Carter Bourette (Programming Lead), Owen Sarmatiuk (Strategy Lead), and Ms. Falconi (Teacher Lead).