September 16, 2013
Grade 9 Students Thinking Forward to Graduation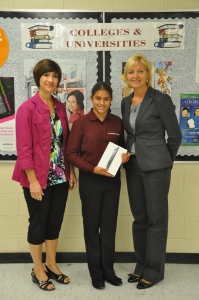 Students entering grade 9 this fall at St. Charles College were given a challenge. Complete twenty of their forty community service hours and be entered to win an I-pad Mini.
The incentive was an idea that Guidance Program Leader Silvia Faggioni heard about from her counterparts working in boards across Ontario at a Ministry of Education workshop last year.
Faggioni says students need 30 credits to graduate, they need to pass the literacy test and complete 40 hours of community service. "Sometimes getting them to complete those hours is the easiest and yet the hardest requirement because by grade 12, students are thinking about their post secondary plans, jobs and relationships."
The challenge for twenty hours began last May when the guidance department visited grade eight schools informing students about contest. Letters were also sent home to kids indicating that they were able to start obtaining hours in the summer going into grade nine.
The challenge worked as many grade 9's submitted their community service hours report. Grade 9 student Alyssa Scott was the winner. She completed her 44.5 hours at both the YMCA Day Camps and working children's games at the Fairbanks Lake Cottage Association Picnic in the summer.