June 20, 2013
St. Benedict Student Receives the Craig T. Noble Award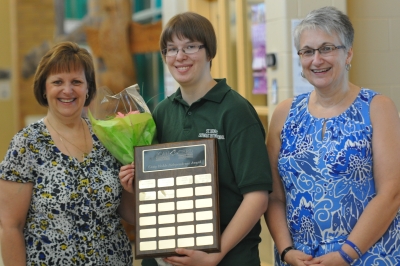 On June 19, St. Benedict Catholic Secondary School student Katelyn Ruff was presented with the Craig T. Noble award from ICAN (Independence Centre and Network) Sudbury. Ruff, a student in the lifeskills class was born with a condition called Tetra X Syndrome which is a rare chromosomal disorder caused by the presence of four X chromosomes instead of two X chromosomes. This often results in learning difficulties, joint problems and emotional stress. Ruff has had a number of surgeries over the years and often experiences pain. According to her teacher, Pam Colasimone, Katelyn works very, very hard every day to overcome her physical challenges. At school she is quite independent and extremely helpful towards her peers.
Nominated for the award by her teacher, Katelyn received the Craig T. Noble award in front of a group of her friends, classmates, staff and ICAN representatives. The Craig T. Noble award is named after a twelve year old student – Craig Noble – who was one of the first participants in the ICAN afterschool program. Noble began the program a shy, quiet student and very quickly became a confident role model for the other participants. In 2006, at 15 years old, Noble passed away, and the Craig T. Noble award was established to support youth with physical disabilities to reach their goals of independence. The award is given every year to a teen who demonstrates similar qualities to Craig; an ambition to be independent, a positive attitude, a strong work ethic towards independence, an involvement in the community and record of volunteering and has set goals for independence.
Marie Leon, C.E.O. of ICAN presented the award to Katelyn and described her as a "friend, daughter, student, classmate and a very special person who is willing to help her friends and teachers." Leon told the group she was proud to know Katelyn.
Colasimone echoed Leon's comments and described Katelyn as a wonderful student and friend and is involved in a number of extra-curricular activities including taekwondo and swimming.
Upon receiving the award, Katelyn was visibly moved and very quietly thanked the group and ICAN for giving her this award.