April 16, 2013
"Tanning is Out" at MMA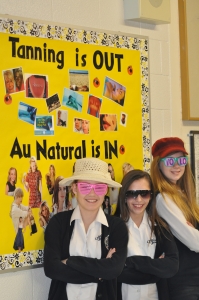 Sophia Baldan, a grade 9 student at Marymount Academy has learned a lot about tanning beds over the last few months. The one main thing she has learned – is just how bad they are for you. Compelled to spread the word, Baldan decided to apply for a grant for her school to start a "Tan-Free" Grad initiative and help inform her peers about the dangers of tanning beds and sun-exposure. On April 16, Baldan was presented a cheque by C.E.O. of the Canadian Cancer Society – Ontario Division, Martin Kabat to kick off her initiative within the school. Baldan took the opportunity to speak to the other students about several of the alarming facts associated with tanning bed usage – including the fact that the use of tanning beds before the age of 35 can increase one's chances of getting melanoma by 75%, as well as the fact that it is just as dangerous to one's health as smoking. Kabat spoke to the students about being the change, and that the young people of Ontario have a lot of power to help make this important shift in the culture. "Young people don't realize how much power you have," Kabat explained. "The Canadian Cancer Society has been after the government for years to ban tanning beds and couldn't get them to do it. It is because of a young person like you that they are finally recognizing the dangers. The voice of one can make a difference, and young people can be the voice." Kabat went on to congratulate the school for taking up this initiative as they are a wonderful example of what young people can do to inspire change.
M.P.P. of Nickel Belt, Frances Gelinas was also scheduled to speak to the students as she has been instrumental in bringing forward the bill and is very passionate about this initiative. Unfortunately she was unable to leave Toronto to attend the assembly at the school, but sent a message to be shared with the students. Gelinas congratulated Baldan for her efforts and thanked the students "for their positive actions – resulting in more Sudburians having a better and healtheir place to live."
Baldan will use the grant money to provide information and resources with the other students, as well as purchase different make-up alternatives to tanning for the students to use for their graduations. Baldan appealed to the students to join in the campaign and "be smart about the sun and tanning because this is what making a difference is all about – are you with me?" She then urged them to get involved by writing their members of provincial parliament to support banning tanning bed usage as well as share information they learned with their family and friends.