March 25, 2013
Rocks and Rings at St. James Catholic Elementary School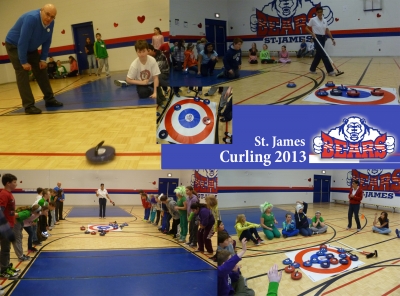 "The Capital One Rocks & Rings program is designed to introduce the Olympic sport of curling to elementary school children. By bringing the curling rink to the school gym we reach children that would otherwise not have access to the roaring game.
The best part? We bring everything to the kids – no field trip or school buses required! Curling is a highly social sport that can be enjoyed for a lifetime. It is a fantastic physical activity that can be enjoyed by all ages and abilities. It also promotes sportsmanship and camaraderie and is an inexpensive and less dangerous alternative to many other sports." www.rocksandrings.com
This was a very engaging and inclusive activity which St. James Catholic Elementary students thoroughly enjoyed. St. James would like to thank Capital One Rocks and Rings for introducing this sport to the students.