February 08, 2013
Jeans for Teens at MMA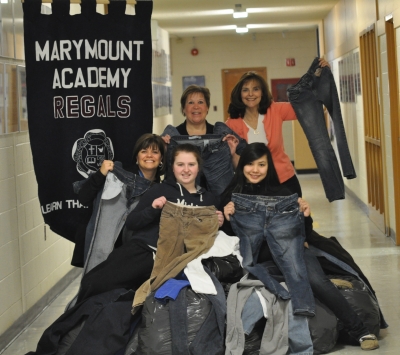 Through the organization dosomething.org, the Aeropostale clothing company has initiated a competition for Canadian secondary schools. Trying to make a difference for homeless teens, Aeropostale is challenging schools to collect the most number of jeans to support the teen clientele at homeless shelters across the nation. According to the website dosomething.org, the number one requested item at homeless shelters by teens is jeans. Marymount student Brooke Debassige who works at the Sudbury Aeropostale store was inspired by this contest and knew that her school would step up and take part in this initiative. After talking to both her principal Lucie Cullen and vice principal Lori Holden, the school launched its own Jeans for Teens collection. "It is the least we can do for others who are less fortunate in our local and surrounding communities," Debassige stated. "At Marymount we are always encouraged to support each other and give back to the community, and I knew this was something that we should definitely be a part of – plus, it just feels good to do something good for others."
Principal Lucie Cullen was inspired by Debassige's idea. "Brooke came to us right away with this idea and we knew immediately that it was something that we would support as a school," Cullen stated. "Marymount strives to support social justice initiatives and we are very proud of Brooke for bringing this forward so that we could participate as a school."
After counting the jeans already collected on Friday, February 8th, Marymount Academy had over 600 pairs of jeans for donation. The Jeans for Teens collection will be ongoing until February 25, 2013 and the school is asking the community to help them with their collection and to drop off any new or gently used jeans to Marymount Academy located at 165 D'Youville St. before February 25, 2013.
The winning school will receive a $10,000 prize, Aeropostale hoodies with the school logo, and a party for the students.