January 14, 2013
The Nativity Story Comes to Life at St. Anne Catholic School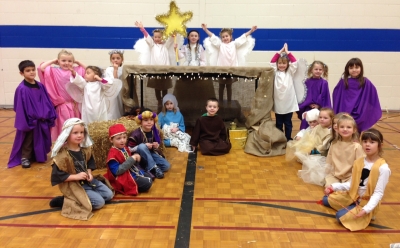 On Wednesday, December 19th, the St. Anne Catholic Elementary School community came together to celebrate the birth of Jesus. Students from the Full Day Kindergarten (FDK) to Grade 8 participated in the celebration of Jesus' birthday through prayer and dramatization. Students from teacher Jody O'Daiskey's combined 7/8 class used their voices to tell the story while students from teacher Alice Desormeaux's FDK class provided the dramatization. "I think the FDK students did a terrific job playing out the scenes and they deserve a big thank you," said Isaac Oliveira, a Grade 8 student at the school.
The FDK students were very pleased with their accomplishments and were happy to display the biggest gift at Christmas: Jesus. "I felt like I was floating up in the sky. I think everybody did well in the play, especially all of my friends," said FDK student Cameron, the star of Bethlehem. "I felt good about being Joseph. I was glad to play the part, and I wasn't nervous," said Anthony Bertrand, a student in FDK.
The St. Anne Catholic School junior choir, let by Ms. Bruneau and Ms. Nickelchuk filled the gymnasium with their gift of music, as did Madame Hayes' FDK class who sang Happy Birthday Jesus. The true meaning of Christmas came to life for all the students and staff at the school.