October 24, 2012
S.C.C. Students Show Support for Student a World Away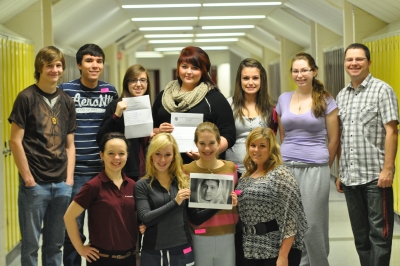 Students in St. Charles College teacher Rick Emond's Grade 12 French Immersion Canadian and World Politics class got very frustrated when the class' discussion focused on Malāla Yūsafzay, the young Pakistani student who was recently shot in the head and neck in an assassination attempt by Taliban gunmen while returning home on a school bus. Malālah is known for her education and women's rights activism in the Swat Valley and most especially her outspoken views on promoting education for girls. When they began discussing this outrageous act of violence againstt a girl who was simply standing up for what she believed in for herself and others experiencing similar discrimination, the class felt compelled to do something. Cassandra Schlosser, a student in the class described her frustration. "What good would it do to just sit around in class and complain? We all felt that we needed to do more than just talk about it." The rest of her classmates agreed. After discussing several ideas, the class landed on a letter. The decided to write a letter to the Pakistani High Commissioner expressing their concern and voicing their beliefs.
An excerpt from the letter reads:
"As proud Canadians, we understand the importance of a good education and we value equal rights. We decided to reach out to you because we want to express our concern for the young girl who took a stand for what she believed in.
Malala Yousafzai was simply defending her rights and the rights of females everywhere to an education. We admire her bravery and commitment, and commend her actions. Without education, we would not be able to move forward as a civilization. Equal access to that education should be easily accessible to anyone who desires it. Furthermore, one should not feel threatened or harmed, be it physically or emotionally while attending school.
We commend the Pakistani government for their efforts so far in dealing with the matter, and encourage them to continue their search in bringing those responsible to justice. We believe the message should be sent to those who try to curtail human rights, that their deed will not go unpunished and will not be tolerated by governments that value their children."
The students then urge the High Commisioner to share this letter with all those who may be encouraged by it, most especially Malāla. It is their hope that this letter will reach her so that she knows she is not alone. The last line in their letter reads "Please pass on our message to Malala, her family and friends and relay that our thoughts and well wishes are with them during this difficult time. She is not alone in this battle."
Knowing that the situation in their own community is very different, the students feel blessed to live in a country that believes in human rights and equality for all. "As a class, I am proud that my students have decided to use their voice," teacher Rick Emond stated. "They have realized that they too can make a difference in their own way as well, and this letter voices their beliefs and shows support from across the globe for a girl who is very courageous and brave. They want her to know that they believe in her and are proud of her strength." Emond hopes that they receive a response from the High Commissioner, and ultimately that their letter reaches Malāla.