October 05, 2012
St. Anne Leads the Way to Wireless Technology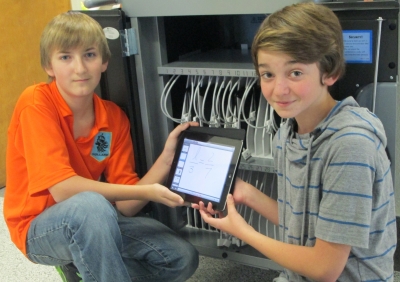 Staff and students at St. Anne Catholic Elementary School in Hanmer are excited to showcase the new technology that recently rolled into their school. Last year, teachers in the Intermediate division submitted a proposal to the Ministry of Education to increase student achievement in writing. This proposal, with a focus on assessment for learning and the imbedded use of technology, was approved in February 2012. The $45,000 grant allows for the purchase of a 2 to 1 student iPad program.
The students at St. Anne Catholic School were fascinated when the new technology was finally incorporated into the classroom. Learners started the week with interactive math lessons delivered wireless through the magic of Apple TV. "It was so great to see our classroom go wireless! We were able to answer questions from our own group and our responses were projected on the large screen using our iPads. Everyone in the classroom was able to work together to solve group problems," said Davey Meeks, Grade 8 student at the school.
Providing effective and timely feedback to students is a corner stone of the proposal. Each teacher received live scribe pens to help achieve this important goal. The pens allow for the delivery of interactive audio descriptive feedback. Students can now better understand how to improve their work and set next steps. "It was awesome to hear suggestions of how to improve my work. I can listen to suggestions over and over, and improve as I move along," said Christopher Balaz, a student in Grade 8.
The Ministry of Education allotted a portion of the grant to be spent on the professional development of teachers and collaboration with community partner. St. Anne Catholic School is a dual track Kindergarten to grade 8 school, offering programs in both English and French Immersion, as well as the Full Day Kindergarten program.