April 10, 2012
St. David Students Take Part in 2012 Roots and Shoots Conference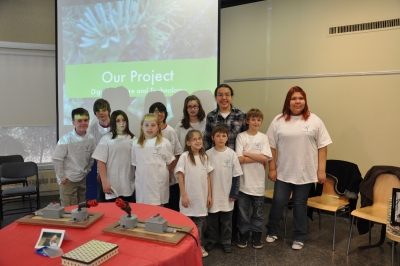 As a part of a Teacher Learning and Leadership project funded by the Ontario Ministry of Education, teachers Jennifer Gran, Leann Laframboise and Christina Kilby have been leading an exciting project. Students from Grade 4/5 and Grade 8 at St. David school have been learning about technology, stewardship and engaging in environmental education in a hands on way. They have been taking their learning outside.
On Monday March 26, 2012, student ambassadors from the project had the privilege of presenting at the Roots and Shoots conference at Science North. Along with their teachers and elders from the project, the students shared their experiences of learning nature photography, visiting Vale's greenhouse in Copper Cliff to see where they grow seedlings for re-greening and planting trees at Laurentian Conservation area in partnership with the Greater City of Sudbury. These students articulated their sense of ownership and expressed their excitement for the project as well as for the volunteers. The students were inspired by the many guest speakers who came to their school from environmental engineers, Native elders to a Science North scientist. Perhaps the most enjoyable part of the project, besides going outside to learn was the relationships that they have developed with Joe Houle (Mrs. Laframboise's Dad who helped with the nature photography) and Theresa Pelletier (Mrs. Gran's mom who shared her love of nature on the nature walks).
All of the photography and video documentation of the project was done by the Grade 4/5 and Grade 8 students. The students have learned and enjoyed using iPads, MacBooks and digital cameras for these tasks.
As the students completed their presentations, they offered seedlings to other students and teachers and asked them to help make a positive change by planting trees. Their final message was to encourage students to "ask their teachers to take them outside" because they know first hand that this way of learning is engaging and memorable.