February 06, 2012
St. Mary Students "Stand Up" for Family Literacy Day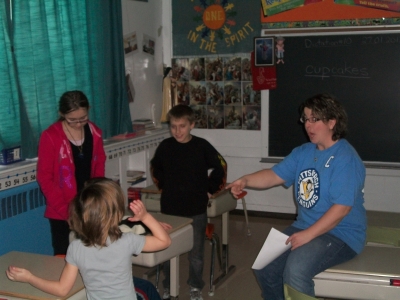 On January 27th, 2012, St. Mary Catholic School Staff decided to host a "Stand Up Day." "We wanted to make sure the students were learning an important message on Family Literacy Day ,"said Ms. Waern. "It is for this reason the teachers decided to work with an anti-bullying theme."
Children travelled from station to station in the afternoon. At one station they listened to literature about bullying and then they participated in oral exercises. At another station, they listened to fairy tales such as Cinderella. The students were then asked to reflect on what they would do if they were being bullied and how they could change their behaviour if they were bullying others. The children were also asked to act out scenarios. Finally, in Ms. Waern's class students listened to their teacher read books and then they were asked to group together to write poetry with an anti-bullying theme.
The day culminated in the library, where the children created their own "Stand Up" bracelets and "Self-esteem" cupcakes. "
The children were taught the words of Mother Teresa, "If we have no peace, it is because we have forgotten that we belong to each other." "So how do we belong to each other?," asked Ms. Brunneau. Her class responded by saying, "Make other people feel good about themselves, and you will feel good about you."
This message sent by our junior students, sums up the learning of our children on Family Literacy Day. In addition, "The message brings truth and light to our Catholic vision and values ," said principal Sherry Bortolotti.