January 31, 2012
St. Anne Students Believe in Motto "Respect For All"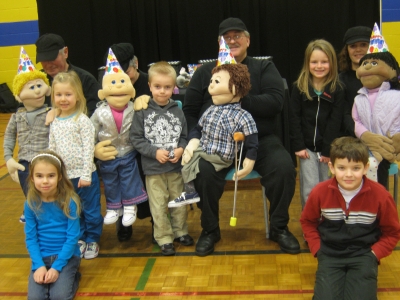 The pupils at St. Anne School in Hanmer pride themselves on demonstrating Catholic virtues. Since September, the students within the Sudbury Catholic Board have worked very hard to practice those virtues of respect, faith, justice, patience, and responsibility. Recently, a presentation from Camp Quality helped to re-enforce all these virtues and more.
Camp Quality is an organization run by volunteers who provide children with cancer the opportunity to experience the joys of camp life during the summer. The camp location in Northern Ontario can be found on the west arm of Lake Nipissing near Monetville. During the school year, the camp sends volunteers and life size puppets into schools to work with students from all grade divisions. Some of the puppets are recovering from leukemia or cancerous tumours. They explain to other puppet friends their feelings and concerns as they return or get ready to return to school. The performances are free for elementary schools and help children to understand the importance of caring for and offering support to one another, especially when a child has a major illness such as cancer.
The St. Anne students enjoyed the presentation immensely. Many of the students themselves have family members who have experienced cancer. The Camp Quality volunteers not only helped re-enforce those virtues already learned, but helped prepare the children for future virtues such as compassion, courage, kindness, and helpfulness. When asked about the presentation itself, the students from all divisions got the message loud and clear. "We may not always look the same on the outside, but we are still the same person on the inside." Way to go Angels!