December 01, 2011
Cardinal Takes on Lead Role in Popular Production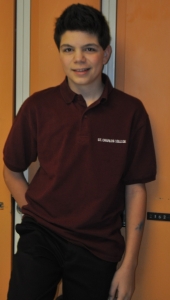 Dante Falcioni, a grade 9 student at St. Charles College will be taking centre stage next week. Dante is the lead role in Cambrian Theatre's Kid's Curtain production of Footloose which gets underway December 8th.

Dante will play main character Ren. The high school student must move from Chicago to a small farming town and re-adjust to life at a new school. Dante says he can relate in some ways to the character as he is just entering his first year of high school and had to transition to a new school himself.

Dante has been involved in Cambrian Theatre productions for a number of years. His good friend and school mate Jenna Daypuk will also be joining him on stage as Rusty. Jenna says the two get involved in local theatre because "they learn a lot and have fun while doing it."

The Footloose production goes until December 17th.