March 31, 2011
St. David Catholic School works with the Community to Celebrate David Suzuki's Birthday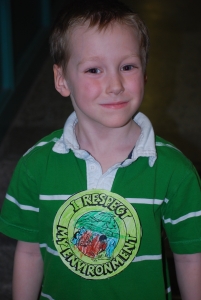 The staff and students at St. David Catholic School have been working all year to enhance and support the School Board's Dearness Conservation Environmental Challenge. The school's "green" initiatives started as a project led by grade 3/4 teacher Terri Lynn Lepage. Lepage stated that, "I started the school conservation project because I live my life within the principles that we all have a responsibility to care for the earth and care for the next generation who will inherit the earth. Once I started to speak with the students about the importance of conservation and how simple things can make a huge difference, for example turning off the lights at lunch each day, our students, staff and community partners jumped on board and have been doing things differently – to make a difference".
The school now makes environmental responsibility a part of the daily curriculum. Students have banded together to create a "green team". The school's "green team" leads the project. According to grade 1 teacher, Maria Cimino, "students teaching students is an excellent way to foster leadership and responsibility at St. David. Kids listen to their peers. Our students teach their parents and families about conservation and environmental issues – they actually teach us. It is a wonderful paradigm shift to be a part of."
The student "green team" researches interesting environmental facts and strategies for taking care of the planet and then reads it as part of the school's daily announcements. They promote litter-less lunches and reward~ students who bring reusable containers with pencils and the opportunity to win water bottles, reusable lunch bags other prizes that are good for the earth.
The junior kindergarten, grade 1, and grade 3/4 classes have started vermi-composting in the classrooms. Vermicomposting, or worm composting, is an excellent way to convert student's biodegradable lunch garbage into nutrient rich fertilizer. Composting with specialty worms known as Red Wigglers is a clean and environmentally friendly way to save tones of waste from going into landfill.
Local counsellor, Evelyn Dutrisac graciously donated 2 outdoor composting bins and kitchen catchers to St. David School so that the entire school community can take turns composting food scraps.
The school turns lights out everyday at lunch time whenever possible and teachers and students use natural light whenever possible. According to Lepage, "conservation can be as simple as, we used reusable cups for the winter carnival instead of paper or styrofoam". Even the school parent council has taken an active role in this project by hosting a monthly " community closet". Parent council chair, Clara O'Campo stated, "we feel great supporting our community by offering people slightly used clothing and household items, and feel even better knowing it helps conserve waste in the world".
Over the past week the school had been preparing for David Suzuki's virtual birthday party. During the party, students wore green to represent and remind them that everyone shares one planet. Several students submitted questions that David Suzuki answered on line during the virtual birthday party. During the party, some students participated in the video component while others planted marigold seeds that will eventually be planted outside the school – and everyone eat birthday cake!
St. David School future plans include working towards starting a community garden in the school yard this spring and harvesting the crops in the fall with a harvest festival. Lepage ended the birthday party by challenging the students to continue to spread their message in the community. She stated that "David Suzuki received a great birthday gift from St. David School – he would be proud their efforts to create a world that cares about the earth and works to keep it healthy."