January 29, 2011
Family Literacy Day Brings Families into Schools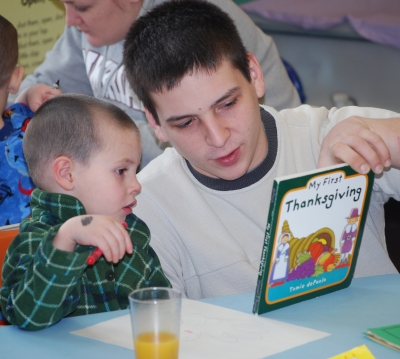 Family Literacy Day centres around having fun while learning. To celebrate, the Junior Kindergarten students at St. David Catholic School read books and drew pictures of their favorite characters with their families. All families read, laughed and enjoyed each other's company while talking about literacy and better developing oral language skills.
Pictured is four year old Kadin Demers reading his favorite story with his dad Matt. When asked about the best part of Family Literacy Day, Kadin excitedly responded, "reading the melting story with Daddy, having hot chocolate and wearing my pajama's to school"!
After the children read with their parents, they had the opportunity to show their family members their performance portfolios which contain all their "best work". The students were able to explain why they chose those pieces for their portfolios.
Lindsay Michel, junior kindergarten teacher states, "It was beautiful to see families reading their favorite books and hearing the students using terms like 'author' and 'illustrator'. The students were very excited to share their hard work in their performance portfolios and speak with their families about what they have been learning. Today, it was a wonderful to see the students and their families share in the joy and appreciation of learning literacy. You could feel that real sense of community that we have at St. David – I was very proud of our students and truly enjoyed the positive relationship building opportunity Family Literacy Day offers schools".