June 20, 2010
St. James Catholic School Selected Provincially as a School on the Move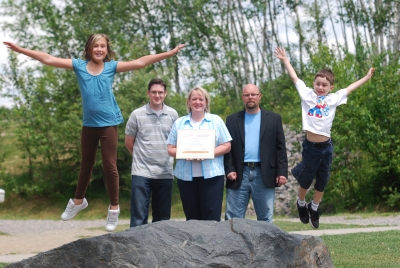 St. James Catholic School joined an elite group of schools across Ontario recently that have been recognized by the Literacy and Numeracy Secretariat as a School on the Move. The School on the Move initiative highlights schools that are making substantial progress in raising student achievement and have sustained this progress over several years. St. James was nominated by the Ministry of Education and after a visit to the school by Ministry officials, was one of only 33 schools selected provincially. With over 4900 schools in the province including Catholic, Public, English and French Boards, Cara Soehner, Principal of the school was thrilled that St. James was selected to be part of such a prestigious group. Only four Northern schools were named as Schools on the Move, and Soehner attributes this to the strength and support of the staff who set strong foundation skills for learning.
Selection for Schools on the Move includes the following criteria:
EQAO scores in reading, writing and mathematics have improved in both Grades 3 and 6 over a three year period
Staff being able to articulate what they did and how they implemented changes
Staff being able to provide evidence of growth in student achievement
Strategies the school identified are supported by research evidence
Collaborative culture, with teachers working together, constantly learning, challenging and supporting each other
Doors being open and parents being partners.
As well as being a School on the Move, an additional accolade for the school includes their receiving the Dr. Bette M. Stephenson award this past year which is an award given to a school that demonstrates leadership, proactive initiatives, positive attitude and sincere efforts to help every child succeed. As well, the school must also be making effective use of the EQAO data and show evidence from other sources to enhance and support student achievement. Again Soehner ascribes the school's success to the continuous work of the staff. "Our staff works tirelessly to engage and support each and every student at St. James," Soehner said. "Every single day we collectively focus on the belief that everything we do is for the success of all of our students and that every single child matters."
St. James is the second school in two years from the Sudbury Catholic District School Board to be nominated and selected as a School on the Move as St. Christopher Catholic Elementary was a School on the Move in the 2008-2009 school year.