March 09, 2010
St. Anne's Parent Going Above and Beyond to Support School Community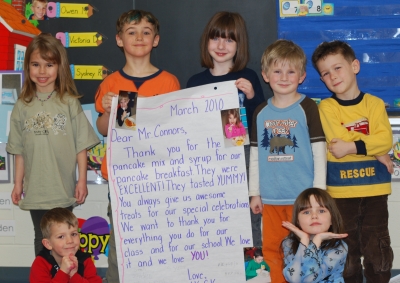 At all of the schools at the Sudbury Catholic District School Board, one can find many parents who go that extra mile to ensure that the students and staff have all that they need for great, fun, safe school days. One such parent that fits this bill is Todd Connors. Connors is a parent of a grade 8 student at St. Anne Catholic Elementary School in Hanmer and is the Regional Operations Manager of Perkins Restaurants. Todd is continuously supporting St. Anne not only with different supplies, but also by finding time to fit volunteering at the school in his busy schedule. As Regional Operations Manger of Perkins, he often donates many different food supplies to the school including pancake mix, muffin mix, crackers, soups, juice etc and in large enough quantities to feed the entire school! As well, he has donated season tickets to the Sudbury Wolves games for the school to enhance their student recognition programs such as "I caught you doing something good". Laura Stirrett, Vice Principal of the school feels that Connors is an excellent example of positive parent involvement as well as a great example of how community can work together with schools building strong partnerships. "Mr. Connors is an important part of our school." said Stirrett. "With his generous donations, he has helped eased some of the fund-raising burdens on students especially during these difficult financial times. We are very grateful for all that Mr. Connors has done and does for our school!" Cheryl Macrury, the JK/SK teacher at the school had her students write a letter to Mr. Connors on behalf of the school to express their gratitude for all that he has done for them. St. Anne's would like to thank Mr. Connors and Perkins Restaurant for really making a difference in their school community.
The letter includes these lines from the JK/SK students:
Dear Mr. Connors,
Thank you for the pancake mix and syrup
for our pancake breakfast. They were EXCELLENT!!
They tasted YUMMY!!! You always give us awesome
treats for our special celebrations. We wan to thank
you for everything you do for our class and for our school.
We love it and we love YOU!
Love,
JK-SK