December 21, 2009
Sudbury Catholic District School Board Staff Take Part in Teacher Learning And Leadership Program (TLLP)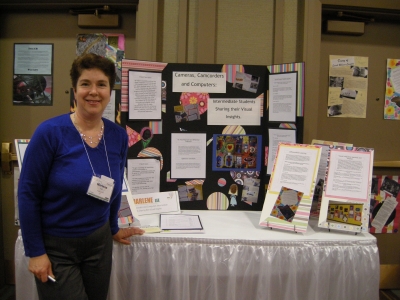 The Teacher Learning and Leadership Program (TLLP)is an opportunity for experienced teachers to engage in self-directed action research with funding from the Ministry of Education. Teachers submit project proposals to their Principal, who then sends the proposal on to the Superintendent of Program. The Superintendent then selects one or two projects to send on to the Ministry for consideration. This project was initiated in 2007, with the first two cohorts of projects reaching completion in July 2009. The Sudbury Catholic District School Board has had a project in each of the three cohorts so far (two have been completed, and one in ongoing).
In November, all of the project leaders from the first two cohorts across the province came together in Toronto to celebrate and share their findings. This "Sharing the Learning Summit" was a powerful and positive experience. Marlene Lee, a teacher from St. Paul School, shared her project entitled Cameras, Camcorders and Computers: Intermediate Students Sharing their Visual Insights". Krista Sarmatiuk, Kathy McDowell and Kevin Krystia, from St. Raphael School, shared their project entitled "Problem-Solving: Math, Literacy and Logic".
Thanks to Ministry funding, both teams have developed valuable resources for teachers to use which will help to promote student success by creating engaging and differentiated learning opportunities.
All of the TLLP participants were sent an invitation to submit a proposal to present at the 5th Annual Ontario Education Research Symposium. Marlene Lee's presentation was one of thirty-five proposals accepted to mount a display from February 17 -19, 2010. She will now have the opportunity to share what she has learned during her TLLP and also to see what other educational research is taking place in the province.