September 22, 2009
Sudbury Catholic Schools Continue on their Journey of Success, EQAO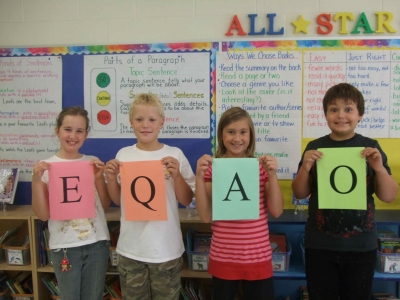 On–The Education Quality and Accountability Office (EQAO) has released the school-and board-level results for three of its assessments, as well as Ontario Student Achievement: EQAO's Provincial Report on the Results of the 2008-2009 Assessments of Reading, Writing and Mathematics, Primary Division, (Grades 1-3) and Junior Division (Grades 4 -6), and the Grade 9 Assessment of Mathematics.
Officials at the Sudbury Catholic District School Board are pleased with the results of their Grade 3 and 6 students with both grades demonstrating gains across the grid or maintaining close to the previous year's scores. With respect to Grade 3, student scores improved in reading (from 57 percent to 58 percent), writing (from 58 percent to 69 percent) and in mathematics (from 61 percent to 63 percent). The Board's Grade 6 students performed almost on par to the previous year scoring 69 percent in writing , 74 percent in reading and 59 percent in mathematics.
A close examination of the Board's secondary school scores, (Grade 9 math component) reveals slight gains in the academic component (from 74 to 75 percent) with huge gains in the applied program (moving from 29 to 44 percent).
As part of the public reporting, the Education, Quality Accountability Office is profiling schools that are using EQAO data to improve teaching and learning. The Sudbury Catholic District School Board is pleased to announce that St. James Catholic School in Lively is one of 18 schools from across the province selected and profiled as an example from the English-language school boards. "These profiled schools are at various stages in their journey of learning and are notable for their demonstration of leadership, proactive initiatives, data-driven strategies and the whole-school approach to helping every child succeed," says Robin Dafoe, EQAO's Director of Corporate and Public Affairs.
St. James staff implemented many ideas that have contributed to the ongoing success of the school and its students. Examining their EQAO results in conjunction with classroom and board-level assessments, the St. James teachers led by Principal, Lucie Cullen developed their School Improvement Plan and pinpointed areas that required more work and specific student learning needs. "The key to ongoing school success has been the consistency of staff and the development of common anchor charts, assessments and teaching strategies, and a consistent language throughout all the grades," said Principal Cullen. In addition the St. James staff visited two "schools on the move" which allowed teachers to share strategies, skills and expertise. Teachers also participated in a weekly Literacy Lunch where discussions centred on teaching strategies, student progress and literacy resources and webcasts. For the complete story visit the EQAO website.
Jody Cameron, Chair of the Sudbury Catholic District School Board is encouraged with the recent test results. "Our board continues to trend upward with respect to the number of our Grade 3, 6 and 9 students who have met or surpassed the provincial standards in reading, writing and math thanks to the hard work and commitment of our teachers and staff," states Cameron.
Catherine McCullough, Director of Education for the Sudbury Catholic District School Board is equally optimistic with the latest data. "The recent EQAO results truly portray our Board and our students in a positive manner," says McCullough. "We are especially pleased that the results of the 2008-2009 provincial assessment reflect the inclusion of our multi-grade, communication and life-skills students."